Michael Reinoehl, the Antifa terrorist who shot and killed beloved Trump supporter Aaron Danielson in Portland on Saturday night, was killed in shootout with a U.S. Marshals Task Force, according to a report.



Two witnesses told The Olympian they saw a man armed with a semi-automatic rifle shoot 40-50 shots at police before they returned fire and killed him.

From The Olympian:

The suspect in the fatal shooting of a right-wing supporter in Portland was shot and killed by a U.S. Marshals task force near Lacey Thursday evening.

The shooting occurred in the 7600 block of 3rd Way Southeast in Tanglewilde about 7 p.m.

Pierce County sheriff's spokesman Ed Troyer confirmed the man who was killed is 48-year-old Michael Forest Reinoehl, the suspect in last weekend's fatal shooting.

Thurston County sheriff's Lt. Ray Brady said the Pierce County sheriff's fugitive apprehension team, working as part of the U.S. Marshals team, was in the area looking for a wanted homicide suspect when they saw the suspect come out of an apartment. They said he appeared to be armed.

"The suspect came out to the car," Troyer said. "They attempted to put him into custody and shots were fired."

The man was inside a vehicle at the apartment complex when the shootout began.

The suspect ran from the car. Officers said he pulled out a gun and the officers fired, according to Brady.

Reinoehl was pronounced dead at the scene.

Brady confirmed that four officers fired their weapons. The officers were from the Department of Corrections, Pierce County Sheriff's Department and Lakewood Police Department.

Chad Smith and Chase Cutler, who were working on cars nearby Thursday, said an unmarked SUV has been parked on School Street for a while when that SUV and another converged on a man in a vehicle in the apartment complex. They moved onto a grassy area about 50 yards away to watch what was happening.

The man got out of his vehicle and began to fire what they believe was an assault rifle at the SUVs. They said they heard 40 or 50 shots, then officers returned fire, hitting the man.
Video from the aftermath of the shooting was shared on Facebook (Warning: Graphic):



Short clip:


"All I heard was pop, pop, pop, pop, pop," the videographer said.

The video shows Reinoehl's dead body in a parking lot that's riddled with bullets. A medic can be seen performing CPR on him with sheriffs around.


Reinoehl admitted to carrying out the murder of Aaron Danielson in an interview with the far-left propaganda outlet VICE that was released on Thursday, claiming "I had no choice."




Reinoehl shared what many called a "manifesto" on Instagram where he stated clearly, "I am 100 % ANTIFA all the way!"

"Every Revolution needs people that are willing and ready to fight. There are so many of us protesters that are just protesting without a clue of where that will lead. That's just the beginning that's that where the fight starts. If that's as far as you can take it thank you for your participation but please stand aside and support the ones that are willing to fight. I am 100 % ANTIFA all the way! I am willing to fight for my brothers and sisters! … We do not want violence but we will not run from it either! … Today's protesters and antifa are my brothers in arms," Reinoehl said in a post on June 16.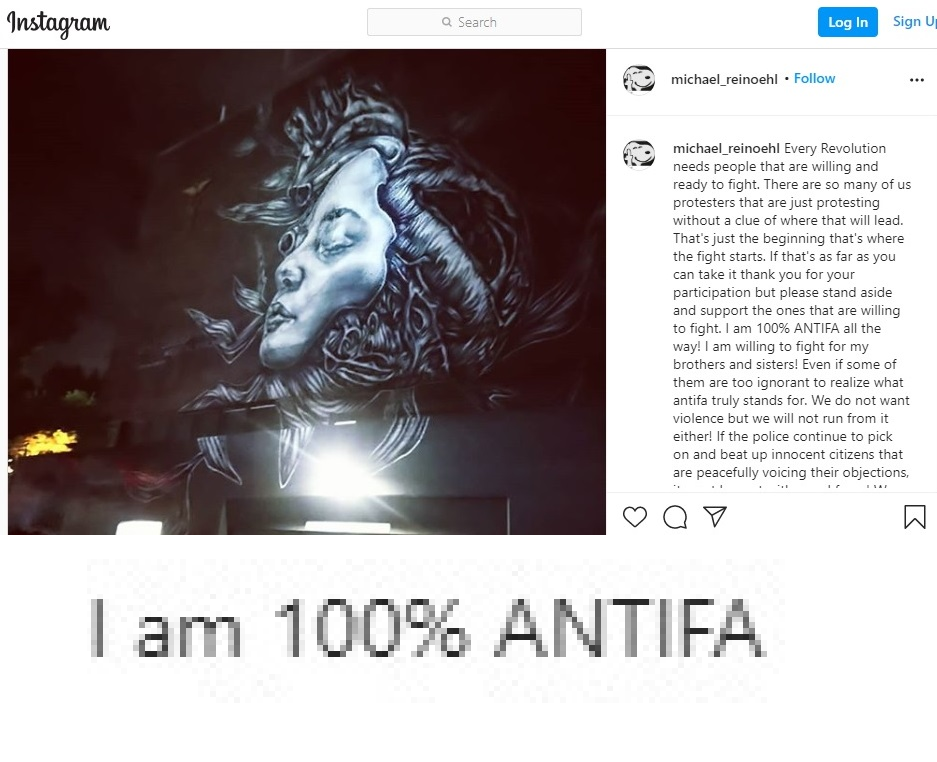 Aaron "Jay" Danielson's friend, Chandler Pappas, said during an interview after the shooting that Danielson was "hunted down" and "executed" because "they recognized our Patriot Prayer hats."




Pappas spoke with Tucker Carlson just before Reinoehl was killed:


President Trump questioned why Portland Police hadn't arrested the "cold blooded killer" of Danielson right as the news was breaking.

"Do your job, and do it fast," Trump said. "Everybody knows who this thug is. No wonder Portland is going to hell!"


As The Blaze reported on Thursday, Joe Biden suggested that Danielson is dead because "Trump guys" were driving around "inciting responses" in Portland.



As Tucker noted, Biden wouldn't utter one negative word about this murderous antifa terrorist.

Perhaps Reinoehl shouldn't have "incited a response" by attacking police.



Follow InformationLiberation on Twitter, Facebook and Gab.