Kyle Rittenhouse Legal Defense Funds Have Raised Over $900,000
Chris Menahan
InformationLiberation
Aug. 31, 2020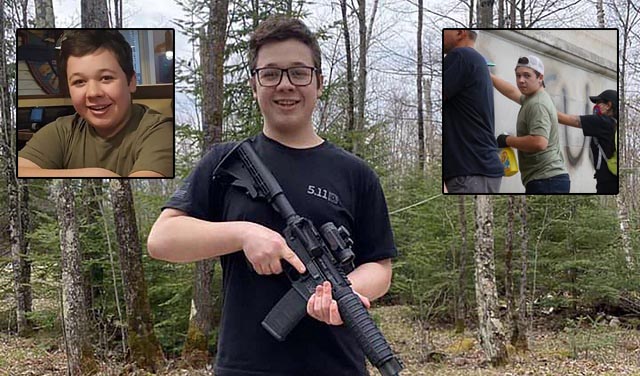 Two legal defense funds for Kyle Rittenhouse, the 17-year-old charged with first-degree murder for allegedly shooting three rioters in Kenosha last week, have raised over $900,000 as of Monday night.

The #FightBack Foundation, a legal defense fund which was started by Nick Sandmann's attorney L. Lin Wood and attorney John Pierce of Pierce Bainbridge after GoFundMe took down a legal defense fund for Rittenhouse, raised a total of $605,550 from 11,254 donors in just four days, Wood revealed on Monday night.


A legal defense fund for Rittenhouse on the Christian fundraising site GiveSendGo raised $302,231 from a total of 7007 donors as of Monday night.

Facebook blocked all links to GiveSendGo's Rittenhouse legal defense fund as of Monday night.





Facebook announced last week they intend to censor content that "praises, supports, or represents" Kyle Rittenhouse because they've chosen to label him a "mass shooter."


Lawyer Colion Noir reported Saturday that a viral video he made analyzing the case was taken down.


"This is something deeper and more sinister than just taking a video down," Noir said. "This is a purposeful attempt to hide the facts. I didn't praise anything, I didn't even bring up personal history about anyone, I simply stated the facts and presented my legal opinion and tried to do it in the most objective way possible and still, Facebook took my video down."

Antifa vultures on Twitter are pressuring Shopify to cancel the legal defense fund set up by Wood and Pierce.


So far, it appears they've failed.

Wood shared additional updates on the case late Monday night/early Tuesday morning:





President Donald Trump on Monday said videos show Rittenhouse was "trying to get away" from a mob before he tripped and fell and was "violently attacked" and he "probably would have been killed" had he not defended himself.


Rittenhouse's attorney, John Pierce, appeared Monday on Tucker Carlson Tonight to argue the case was "100 percent self-defense."


Follow InformationLiberation on Twitter, Facebook and Gab.