Virginia: BLM Rioters Topple Statue Onto Fellow Rioter's Head, Man Left Severely Injured
Chris Menahan
InformationLiberation
Jun. 11, 2020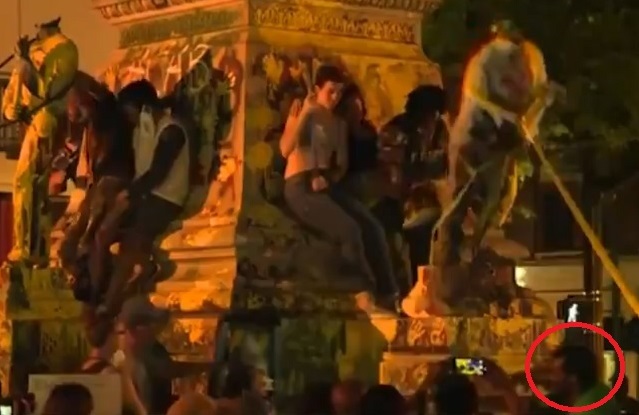 Black Lives Matter rioters in Portsmouth, Virginia were filmed toppling a 127-year-old statue onto a fellow rioter's head on Wednesday night as police sat and watched after being ordered not to arrest anyone.

The man was reportedly left severely injured.


The rioters beheaded the statues earlier in the day before deciding to topple one down but inadvertently may have "beheaded" one of their own.



"The man's head was cut open, and he was transported to the hospital," The Virginian-Pilot reported.

Two women and one man could be seen hitting the statue with sledgehammers and shoving it as someone off camera pulled it down.


A witness said you could see parts of the man's skull:


The Virginian-Pilot reported that police were watching the rioters deface the statue and topple it and did nothing.

Portsmouth Police Chief Angela Greene said a higher-up ordered police not to arrest anyone but refused to name who it was other than to say the person "was out here on plenty of platforms and media outlets earlier today."


Local officials had already agreed to tear the statue down but the NAACP and Black Lives Matter rioters apparently couldn't wait (and elected leaders clearly had no interest in stopping them):






Rioters on Wednesday toppled a statue of Christopher Columbus outside the Minnesota State Capitol in St. Paul:



Rioters in Richmond, Virginia on Tuesday toppled a statue of Christoper Columbus, draped an American flag on it and set it on fire and then threw it into a lake.




Lest anyone be fooled into thinking this is about fighting slavery, the statue of abolitionist Matthias Baldwin in Philadelphia was also similarly defaced.



Virginia Senator Amanda Chase, who is currently running for governor, said in a viral post Wednesday on Facebook: "This isn't about destroying Confederate history, it's about destroying WHITE HISTORY."

"Just wait," Chase said. "James Madison, Patrick Henry, Thomas Jefferson and George Washington are next. This has everything to do [with] HATE and racism... from rioters, looters and thugs."


Follow InformationLiberation on Twitter, Facebook, Gab and Minds.