Narrative Collapse: Jail Records Show Most Arrested in Minneapolis Riots Have Minnesota Addresses
Chris Menahan
InformationLiberation
May. 30, 2020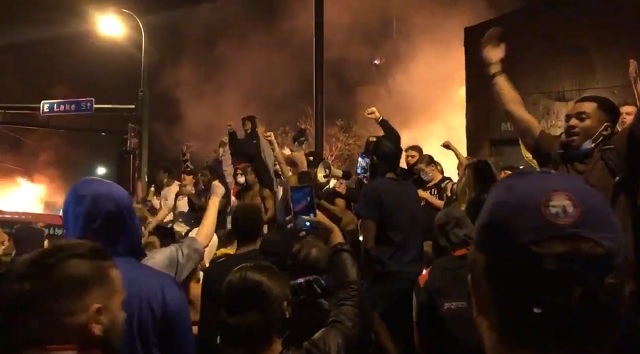 Democratic Minneapolis Governor Tim Walz's claim that potentially "80 percent" of the rioters in the city were from out of state fell apart within hours on Saturday after local news outlet Fox 9 went and reviewed the public jail records.


From FOX 9 Minneapolis-St. Paul:

The overwhelming majority of people arrested in connection with the Minneapolis unrest have Minnesota addresses, a search of the online Hennepin County Jail log shows.

Of the 45 people arrested for rioting, unlawful assembly, stolen property, burglary or robbery on May 29 and May 30 so far, 38 had Minnesota addresses, according to publicly available jail records reviewed by FOX 9.

Six had out-of-state address, and one person didn't have address information listed.


City and state officials have repeatedly said over the past day that most rioters are from out of state. Gov. Tim Walz said Saturday morning that as many as 80 percent of the people were outsiders.
First off, as I reported on Thursday, no one was confirmed to have been arrested on the first three days of rioting other than one Pawn Shop owner who shot and killed a looter.

Walz this morning even said he doesn't want the rioters "arrested," he just wants them to "go home."


It needs to be clarified that Minneapolis officials on Saturday were claiming that 80 percent of the people who had been arrested were from out of state (and they suggested they could be "white supremacists").


Early Saturday, Gov Walz also tried to shift the narrative by suggesting "white supremacists" were actually behind the riots in Minneapolis.


Minneapolis Mayor Jacob Frey echoed the Governor's statement hours later, writing: "We are now confronting white supremacists, members of organized crime, out of state instigators, and possibly even foreign actors to destroy and destabilize our city and our region."


Not only are they trying to suggest "white supremacists" carried out the riots but Russians too!

President Trump, who reportedly decided to take a hands off approach to the riots over fears that doing otherwise would hurt his campaign's "chances at coalition building with minority communities ahead of the election," echoed similar falsehoods.

Instead of saying 80 percent of those arrested were from out of state, Trump just flat out claimed 80 percent of ALL the rioters were from out of state and they were "especially" targeting "African American small businesses."



In reality, stores put up signs announcing they were a "black owned business" to prevent BLM/Antifa rioters from destroying them.


Whereas the establishment left is blaming "white supremacists" for the riots, the establishment right is blaming "white antifa."



"White supremacists" are the boogeyman both sides now blame for literally everything -- even BLM and antifa riots!

It's too politically incorrect to hold any group other than white people accountable for any of their actions, yet somehow people can actually believe the lie that America is a "white supremacist country!"




Imagine if the people who went to Charlottesville burned down the entire city and looted everything in sight only for the government to come out and blame "black supremacists."

That's the equivalent of the narrative swap they're trying to pull off.


The problem is, black folks have been boasting about leading the riots for days.





In front of everyone's eyes, the left went from celebrating these riots as righteous anger against "400 years" of slavery and racism to claiming the riots were the actions of white supremacists and black folks had nothing to do with them!

Officials are now planning to use this "white supremacist" threat as an excuse to aggressively shut down all these BLM/antifa protests.

Tonight, we may witness Black Lives Matter protesters getting their skulls smashed by the National Guard for rioting and yet the media and government officials will claim they were just putting down "white supremacists!"

UPDATE:


Follow InformationLiberation on Twitter, Facebook, Gab and Minds.