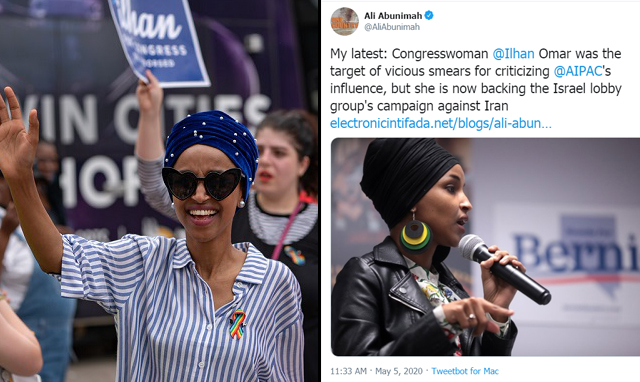 Any threat "The Squad" may have posed to our ruling oligarchs is now over.


From The Electronic Intifada, "Ilhan Omar backs Israel lobby campaign against Iran":

In an unexpected move, Minnesota Congresswoman Ilhan Omar has reportedly signed on to a letter circulated by AIPAC, the powerful Israel lobby group on Capitol Hill.

According to the publication Al-Monitor, the AIPAC-backed letter is aimed at "bolstering the Donald Trump administration's efforts to extend the United Nations arms embargo on Iran."

That embargo is set to expire in October as part of the 2015 multinational deal in which Iran placed limits on its civilian nuclear energy program in exchange for sanctions relief.

[...] Omar's signature is all the more baffling, given her forceful criticisms of US sanctions policy against various countries.
The Squad went from opposing usury, criticizing AIPAC and telling former Goldman Sachs CEOs to get f***ked to voting with Pelosi and pushing pie in the sky programs (which will only further alienate them) for social media "likes."



Trump was taken down through a relentless deep state pressure campaign but The Squad was conquered by their own blind hatred. Though they're swimming in "likes" from the Twitterati, they alienated the majority of the country by embracing the establishment's hate-filled anti-white politics.












Bernie Sanders made the same mistake and it torpedoed his candidacy even though this could have been his moment.

If The Squad want to understand how the game is run, they should read the leaked documents from Amazon-owned Whole Foods which show how they rate their stores using a "diversity index" because they determined the threat of unionization is "higher" at stores with "lower diversity."

"Woke" politics is the politics of our ruling oligarchs and the leftists who subscribe to it are nothing more than useful idiots.




from Occupy Wall Street, to Occupied by Wall Street. from r/ABoringDystopia
Follow InformationLiberation on Twitter, Facebook, Gab and Minds.