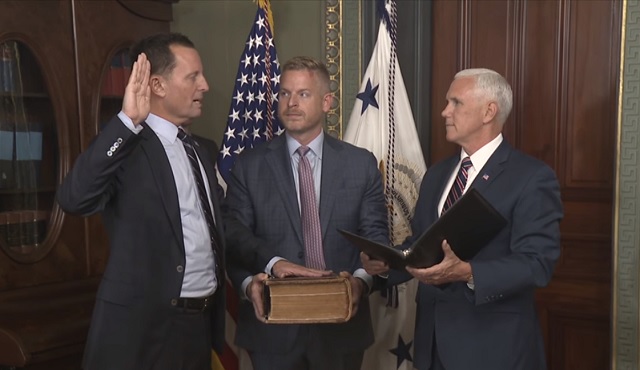 President Trump's new acting director of national intelligence, Richard Grenell, who the media has wrongly labeled a Trump "loyalist," supported John Kasich when it mattered most in 2016 according to newly unearthed deleted old tweets.

From Politico, "Trump's new intel chief was a Trump critic in 2016":

In 2016, before the New York real estate mogul became the GOP presidential nominee, Grenell called Trump "dangerous" and spoke out regularly in favor of then-Ohio Gov. John Kasich, according to deleted tweets recovered via a joint inquiry by POLITICO and the cybersecurity firm Nisos.

"He's dangerous!" read one deleted Grenell tweet from March 24, 2016, the day Trump tweeted that "NATO is obsolete and must be changed to additionally focus on terrorism as well as some of the things it is currently focused on!"

The tweets underscore a key irony of the Trump era: Some of the president's fiercest critics during the 2016 race have since transformed into his most passionate defenders, including Secretary of State Mike Pompeo, who warned that Trump would be an "authoritarian president"; GOP Senator Lindsey Graham, who denounced Trump as "a race-baiting, xenophobic, religious bigot" who would destroy the Republican Party; and acting chief of staff Mick Mulvaney, who called Trump a "terrible human being" right before the 2016 election.

Grenell seems to have undergone a similar evolution.
It's remarkable how Trump claims to value loyalty above all else and yet surrounds himself almost exclusively with people who didn't support him when it actually mattered.

It should be noted these "passionate defenders" only support him when he's doing the will of the establishment and their donors.

"Trump is dangerous. Wake up. He's reckless," he replied on another occasion to a user who had written "vote Trump." He urged his followers to read Trump's interview with The Washington Post editorial board, in which Trump said, "I think NATO as a concept is good, but it is not as good as it was when it first evolved ... I'm not even knocking it, I'm just saying I don't think it's fair, we're not treated fair."

"NATO needs reforming. But Trump is questioning its usefulness," read another deleted Grenell tweet from March 24, 2016.
Grenell hated Trump for the things Trump was most right about (of course, Trump pivoted on NATO and sided with the establishment on the issue after getting into the White House).
Five days later, in another since-deleted tweet, Grenell wrote, "If you think Trump knows foreign policy issues then absolutely yes, you are stupid." Vox highlighted some of Grenell's criticisms in March 2017, when Trump was considering nominating Grenell to be U.S. ambassador to NATO. POLITICO and Nisos were able to recover more than 1,000 deleted tweets belonging to Grenell's account via analysis of open source information through a proprietary capability that extracted and screen-captured archived tweets via the Wayback Machine.

[...] But Grenell also appeared to prefer Trump's rivals for the 2016 GOP presidential nomination, Kasich and Carly Fiorina. Even former Florida Gov. and GOP candidate Jeb Bush got some love: "@JebBush is right," Grenell's account tweeted on Oct. 28, 2015, during that campaign cycle's third GOP debate. "@DonaldTrump talks about foreign policy like it's a simple board game. #Unserious."

During a GOP debate on Jan. 28, 2016, Grenell's account heaped praise on Fiorina, the former Hewlett-Packard CEO. "The GOP needs #CarlyFiorina," reads one tweet from that night ".@CarlyFiorina for the win. #Loveher," reads another.

By February, Grenell appears to have moved over to the Kasich camp. "John Kasich is presenting the most new ideas," reads one tweet from Feb. 13, 2016, the night of another GOP debate.
Kasich struggled to get even 1 percent in the polls.

During the March 10, 2016 debate, Grenell's account tweeted: "John Kasich is very good and comfortable on foreign policy." During a March 22, 2016, Kasich, appearance on the Fox Business show "Varney & Co," Grenell's account tweeted: "@JohnKasich is on with @Varneyco talking the most intelligently about Brussels attacks. He is strong and yet thoughtful."

On March 24, 2016, when a new Pennsylvania poll was released, Grenell's account wrote: "Pennsylvania can save America by voting John Kasich," adding in another tweet: "John Kasich needs to stay in this race until the end. Many people know [Ted] Cruz just can't win in November."
While Grenell was busy bashing Trump he was reportedly taking money from an Eastern European oligarch and getting paid by advisers to Israeli Prime Minister Benjamin Netanyahu.


From Pro Publica, "Trumpís New Spy Chief Used to Work for a Foreign Politician the U.S. Accused of Corruption":

President Donald Trump's new acting intelligence director, Richard Grenell, used to do consulting work on behalf of an Eastern European oligarch who is now a fugitive and was recently barred from entering the U.S. under anti-corruption sanctions imposed last month by the State Department.

In 2016, Grenell wrote several articles defending the oligarch, a Moldovan politician named Vladimir Plahotniuc, but did not disclose that he was being paid, according to records and interviews. Grenell also did not register under the Foreign Agents Registration Act, which generally requires people to disclose work in the U.S. on behalf of foreign politicians.

[...] In between his turns in government, Grenell had a public affairs consulting firm called Capitol Media Partners. One of the firm's clients, according to the financial disclosure that Grenell filed when he became an ambassador, was Arthur J. Finkelstein, the late Republican political consultant whose international clients included Prime Minister Benjamin Netanyahu of Israel and Prime Minister Viktor Orban of Hungary. Grenell's financial disclosure indicates that he received more than $5,000 from Finkelstein's firm but does not specify how much.

According to a person familiar with the relationship, Grenell worked for Finkelstein as a media consultant for clients in Eastern Europe. That person and another individual said the client in Moldova was Plahotniuc, the country's richest man and then a top official in its ruling political party.
It's not surprising Grenell would support Kasich. It is somewhat surprising Trump would run as an outsider candidate unbeholden to special interests and determined to "drain the swamp" only to delegate his presidency to Jared Kushner and surround himself with the worst our establishment has to offer.


Follow InformationLiberation on Twitter, Facebook, Gab and Minds.