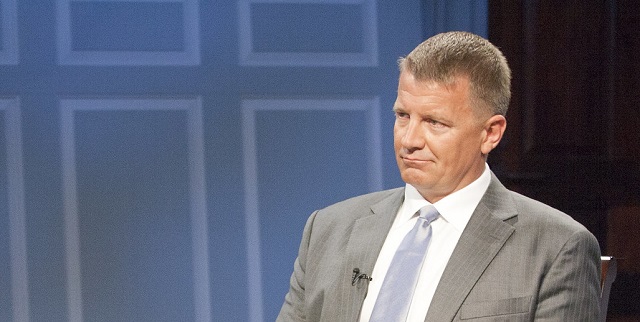 The FBI is systematically going after every prominent person who helped Donald Trump win the presidency in 2016.

It doesn't matter if you were a loyal servant of the establishment in the past, as is the case with Blackwater founder Erik Prince, helping Trump win was a crime worse than murder.

From The Intercept, "FBI Is Investigating Erik Prince for Weaponizing Crop Dusters":

LAST MAY, SHORTLY after Congress accused Erik Prince of lying under oath and referred criminal charges to the Justice Department, an associate approached the Blackwater founder to offer help and commiserate about Prince's potential legal jeopardy.

Prince, who once moved to the United Arab Emirates to avoid being caught up in a federal prosecution, immediately dismissed the associate's concerns. He was untouchable, he bragged, and would face no legal troubles.

"Not under this guy," Prince said referring to President Donald Trump, according to a person with direct knowledge of the exchange.
It's hard to believe he would say something so stupid considering what's happened to Stone, Flynn, Manafort, etc.
That assumption is about to be tested.

Prince, an heir to a billion-dollar fortune who is widely viewed as a shadow adviser to the president, is under federal investigation for his 2015 attempt to modify two American-made crop-dusting planes into attack aircraft — a violation of arms trafficking regulations — two people familiar with the investigation told The Intercept. The planes became part of private military services Prince proposed to sell or use in mercenary operations in Africa and Azerbaijan, as The Intercept has previously reported.

The investigation into the modified crop dusters is one of several ongoing probes targeting Prince. Another focuses on the allegations that he lied to Congress during the House Intelligence Committee's investigation into Russia's 2016 presidential election interference; a third concerns a 2017 armed aviation proposal to the UAE, according to the Wall Street Journal.
Under normal circumstances, this would not be an issue. Servants of the establishment are allowed to engage in brazenly criminal behavior without facing any repercussions.

Former FBI director James Comey, for example, was allowed to entrap Michael Flynn and then go on MSNBC and laugh about "[getting] away with" it without facing any charges.



Former CIA director John Brennan can drone strike American citizens like it's nothing.


Former director of national intelligence James Clapper can lie to congress under oath without facing so much as a slap on the wrist.



This is the real crime Prince is being punished for:

Prince donated $250,000 to help elect the president and worked to help his campaign dig up dirt on Hillary Clinton, according to the Mueller report.
Off to the gulags!

[Header image from the Miller Center via Flickr, CC BY-SA 2.0]

Follow InformationLiberation on Twitter, Facebook, Gab and Minds.