CBS News: 'How Jewish American Pedophiles Hide From Justice in Israel'
Chris Menahan
InformationLiberation
Feb. 19, 2020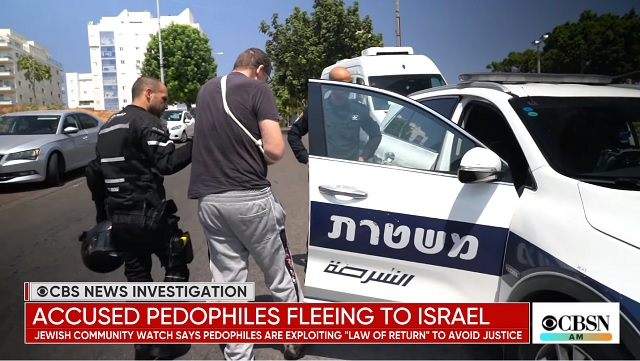 Jewish American pedophiles are escaping justice by fleeing to Israel and automatically attaining Israeli citizenship under their right of return laws, CBS News reports.

WATCH:



From CBS News, "How Jewish American pedophiles hide from justice in Israel":

Tel Aviv - It's a tense stakeout, waiting for Jimmy Julius Karow to appear. He is a wanted man and is considered dangerous. Accused of sexually assaulting a 9-year-old girl in Oregon in 2000, he fled to Israel before authorities in the U.S. could apprehend him or figure out where he went. Karow has been running from U.S. law enforcement ever since. Currently INTERPOL, an inter-governmental policing organization that works with 194 countries, has a Red Notice to alert police worldwide that he's a fugitive.

Two years after he fled the U.S., Karow was convicted by an Israeli court of child molestation in a separate case. He served time and was released. Now another alleged Israeli victim has come forward, saying he began abusing her when she was 5-years-old, and continued for years.


Karow has successfully evaded authorities by moving between communities in Israel for almost two decades, and he is not alone.

A CBS News investigation has found that many accused American pedophiles flee to Israel, and bringing them to justice can be difficult.

Jewish Community Watch (JCW), an American organization that tracks accused pedophiles, has been trying for years to find Karow and help bring him to justice.

JCW says Karow and other wanted men and women have been able to exploit a right known as the Law of Return, whereby any Jewish person can move to Israel and automatically gain citizenship.
Jewish Community Watch told CBS News that if they were not personally hunting these abusers down in Israel "then nobody would do it."

The New York Post's Page Six reported earlier this year that child sex trafficker Jeffrey Epstein's alleged partner in crime, Ghislaine Maxwell, is fleeing justice by hiding in a "safehouse" in Israel.


The Intercept reported earlier this month that the lead suspects in the 1985 murder of Palestinian-American civil rights activist Alex Odeh also allegedly fled to Israel to escape prosecution.


Follow InformationLiberation on Twitter, Facebook, Gab and Minds.