Nancy Pelosi Demands Facebook And Twitter Censor Trump's Parody Video Making Fun Of Her
Chris Menahan
InformationLiberation
Feb. 10, 2020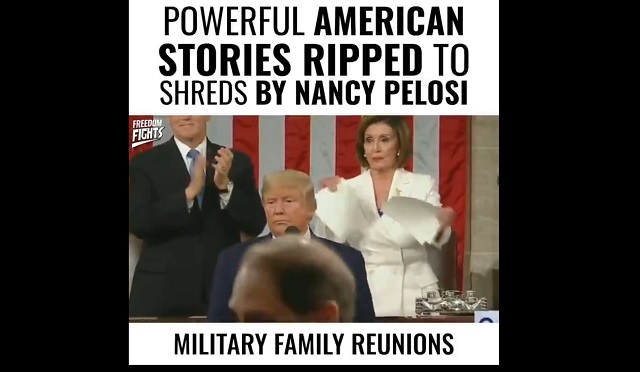 No one should be allowed to make fun of Nancy Pelosi -- not even the President of the United States!

From The Guardian, "Facebook and Twitter reject Pelosi's request to remove edited Trump video":

Facebook and Twitter have refused House speaker Nancy Pelosi's request to remove a video posted by Donald Trump that was misleadingly edited to show her repeatedly tearing a paper copy of his State of the Union address while he was honoring a Tuskegee Airman and other attendees.


"The American people know that the President has no qualms about lying to them -- but it is a shame to see Twitter and Facebook, sources of news for millions, do the same," Drew Hammill, Pelosi's chief of staff, said on Twitter. "The latest fake video of Speaker Pelosi is deliberately designed to mislead and lie to the American people, and every day that these platforms refuse to take it down is another reminder that they care more about their shareholders' interests than the public's interests."
Rep Ro Khanna (D-CA), whose district includes Silicon Valley, also demanded Twitter take down the video for violating "our 1st Amendment tradition":


This is where the Democrats are now at.

Follow InformationLiberation on Twitter, Facebook, Gab and Minds.