Ann Coulter: It'd Be 'Really Great' If Trump Helped His Voters As Much As He Has Helped Sheldon Adelson
Chris Menahan
InformationLiberation
Jan. 09, 2020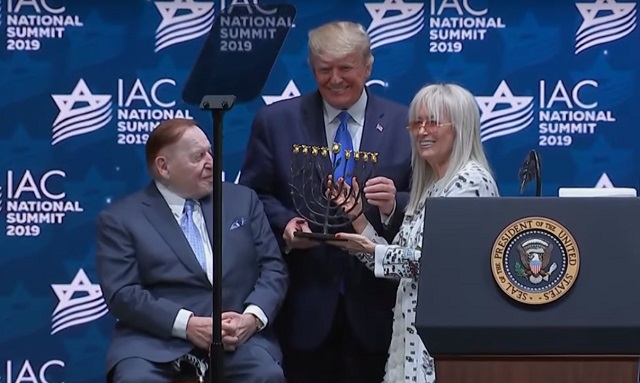 Ann Coulter said Wednesday night on Breitbart Radio that President Trump has given pro-Israel billionaire and GOP megadonor Sheldon Adelson "a lot" and "it would be really great if he'd do something for the people who voted for him" by following through on his immigration promises.

"Trump has got to build 400 miles [of wall], we need to start the hashtag #400Miles," Coulter said. "We need something on this. He's given Sheldon Adelson a lot, I think it would be really great if he'd do something for the people who voted for him."



Listen to the full interview:



As I reported on Monday, in order to help Israel, President Trump:

- Pulled out of the Iran nuclear deal
- Appointed Nikki Haley to fight for Israel at the UN
- Pushed forward with a bill to give Israel $38 billion from US taxpayers
- Put maximum sanctions on Iran
- Endorsed the expansion of settlements
- Moved the US embassy to Jerusalem
- Cut all US aid to the Palestinians
- Backed Israel's annexation of the Golan Heights
- Outlawed criticism of Israel on college campuses by executive order
- Gave speeches commanding Americans to "love Israel"
- Assassinated Soleimani
Despite all this, Israeli Prime Minister Benjamin Netanyahu told his cabinet on Monday that the assassination of Soleimani "isn't an Israeli event but an American event" and "there's no need to be dragged into it."


Adelson has called for nuking Iran in the past.



Fortunately, Trump hasn't taken that advice (yet).

Coulter spoke out against the prospect of war with Iran on Mark Simone's radio show Wednesday morning:



"After 9/11, we went to war with two countries on the other side of the globe, spending trillions of dollars and sacrificing thousands of our greatest Americans because (mostly Saudi) immigrants killed 3,000 Americans. U.S. servicemen and women are still dying to avenge this single mass murder from two decades ago," Coulter said in her latest column. "Mexico kills at least 10 times that many Americans every year."

"Why on Earth are our media -- and our president -- consumed with 'Whither Iran?' when hundreds of Americans are dying every day at the hands of the country sitting right next door?"

Follow InformationLiberation on Twitter, Facebook, Gab and Minds.