Netanyahu: Assassination of Soleimani 'Was A U.S. Event' And Israel Should 'Stay Out Of It'
Chris Menahan
InformationLiberation
Jan. 06, 2020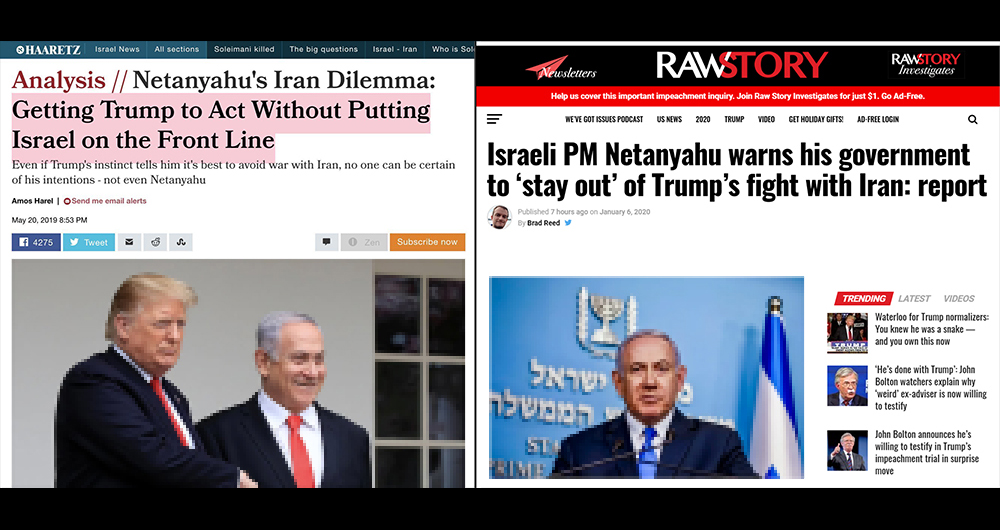 Truly our greatest ally!

"Netanyahu told security cabinet that Israel wasn't involved in the killing of Soleimani and stressed 'it is a U.S. event and we should stay out of it', according to 2 cabinet ministers who attended the meeting," Barak Ravid of Israel's Channel 13 reported Monday.


"Breaking: Netanyahu distances Israel from Trump. 'The assassination of Soleimani isn't an Israeli event but an American event. There's no need to be dragged into it,'" reported Jerusalem-based journalist Noga Tarnopolsky.


As Haaretz reported in May 2019, Netanyahu has been "the only world leader to openly express support for the escalating U.S. campaign against Iran."

From Axios, "Netanyahu tells Security Cabinet Israel must not be dragged into Soleimani killing":

Israeli Prime Minister Benjamin Netanyahu told Security Cabinet ministers Monday that the killing of Iranian Gen. Qasem Soleimani was carried out solely by the U.S. and that Israel was not involved in any way and must not be dragged into the escalating conflict, two ministers who attended the meeting told me.

Why it matters: Like other countries in the region, Israel is concerned that Iran will retaliate against it in order to avenge the killing of Soleimani.

Since Soleimani was killed last week, Netanyahu's office ordered Cabinet ministers not to speak to the press about the issue in order to prevent public statements that might create the impression Israel was involved in the operation.

Details: According to the two ministers who attended the meeting, Netanyahu said, "The killing of Soleimani is a U.S. event, not an Israeli event, and we should stay out of it."
"According to my best Southwest Asia intel sources, 'Israel gave the U.S. the coordinates for the assassination of Qassem Soleimani as they wanted to avoid the repercussions of taking the assassination upon themselves,'" Asia Times journalist Pepe Escobar reported on Friday.

As a reminder, Netanyahu also didn't send a single soldier to help the US-led invasion of Iraq which he forcefully lobbied our congress for.



In order to help Israel, President Trump:

- Pulled out of the Iran nuclear deal
- Appointed Nikki Haley to fight for Israel at the UN
- Pushed forward with a bill to give Israel $38 billion from US taxpayers
- Put maximum sanctions on Iran
- Endorsed the expansion of settlements
- Moved the US embassy to Jerusalem
- Cut all US aid to the Palestinians
- Backed Israel's annexation of the Golan Heights
- Outlawed criticism of Israel on college campuses by executive order
- Gave speeches commanding Americans to "love Israel"
- Assassinated Soleimani
Nonetheless, "our greatest ally" won't even back the US up now that we're on the brink of World War III!



You (and by extension our whole country) got played once again, Mr. President!


None of this would have happened if you simply kept your campaign promises!


Follow InformationLiberation on Twitter, Facebook, Gab and Minds.