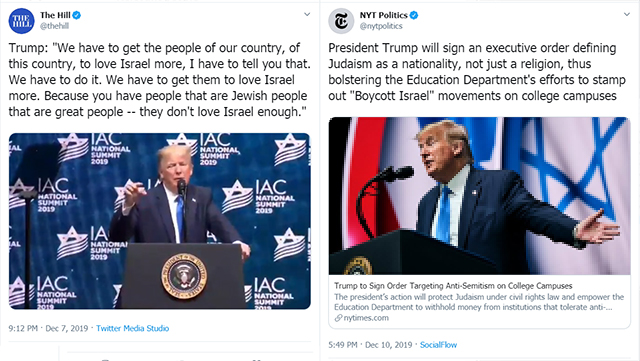 President Trump wasn't just shooting from the hip last week when he told Sheldon Adelson's Israeli American Council that "we have to" get Americans to "love Israel."


He's working to enshrine that sentiment into law and punish all of Israel's critics for their insolence.



From The New York Times:

Trump to Sign Order Targeting Anti-Semitism on College Campuses

The president's action will protect Judaism under civil rights law and empower the Education Department to withhold money from institutions that tolerate anti-Israel movements.

By Peter Baker and Maggie Haberman
Dec. 10, 2019

WASHINGTON — President Trump plans to sign an executive order on Wednesday targeting what he sees as anti-Semitism on college campuses by threatening to withhold federal money from educational institutions that fail to combat discrimination, three administration officials said on Tuesday.

The order will effectively interpret Judaism as a nationality, not just a religion, to trigger a federal law penalizing colleges and universities deemed to be shirking their responsibility to foster an open climate for minority students, according to the officials, who insisted on anonymity to discuss the matter before the announcement.

[...] critics have complained that such a policy could be used to stifle free speech and legitimate opposition to Israel's policies toward Palestinians in the name of fighting anti-Semitism. The definition of anti-Semitism to be used in the order, which matches the one used by the State Department, has been criticized as too open-ended and sweeping.

For instance, it describes as anti-Semitic "denying the Jewish people their right to self-determination," and offers as an example of such behavior "claiming that the existence of a State of Israel is a racist endeavor."

Opponents of the definition fear that it could be used to declare any defense of Palestinian autonomy to be anti-Semitic, with federal education funding as a cudgel.

[...] The executive order to be signed on Wednesday stemmed from an effort spearheaded by Jared Kushner, his son-in-law and senior adviser, who is the Jewish grandson of Holocaust survivors.

[...] The order to be signed by Mr. Trump would empower the Education Department to go further. Under Title VI of the Civil Rights Act of 1964, the department can withhold funding from any college or educational program that discriminates "on the ground of race, color, or national origin." Religion was not included among the protected categories, so Mr. Trump's order will have the effect of embracing an argument that Jews are a people or a race with a collective national origin in the Middle East, like Italian Americans or Polish Americans.
Still waiting for those executive orders on Big Tech censorship and birthright citizenship Trump promised before the midterms...

This is the State Department's "working definition" of antisemitism (it constantly evolves and becomes broader and broader):

"Antisemitism is a certain perception of Jews, which may be expressed as hatred toward Jews. Rhetorical and physical manifestations of antisemitism are directed toward Jewish or non-Jewish individuals and/or their property, toward Jewish community institutions and religious facilities."

To guide IHRA in its work, the following examples may serve as illustrations:

Manifestations might include the targeting of the state of Israel, conceived as a Jewish collectivity. However, criticism of Israel similar to that leveled against any other country cannot be regarded as antisemitic. Antisemitism frequently charges Jews with conspiring to harm humanity, and it is often used to blame Jews for "why things go wrong." It is expressed in speech, writing, visual forms and action, and employs sinister stereotypes and negative character traits.

Contemporary examples of antisemitism in public life, the media, schools, the workplace, and in the religious sphere could, taking into account the overall context, include, but are not limited to:


Calling for, aiding, or justifying the killing or harming of Jews in the name of a radical ideology or an extremist view of religion.
Making mendacious, dehumanizing, demonizing, or stereotypical allegations about Jews as such or the power of Jews as collective -- such as, especially but not exclusively, the myth about a world Jewish conspiracy or of Jews controlling the media, economy, government or other societal institutions.
Accusing Jews as a people of being responsible for real or imagined wrongdoing committed by a single Jewish person or group, or even for acts committed by non-Jews.
Denying the fact, scope, mechanisms (e.g. gas chambers) or intentionality of the genocide of the Jewish people at the hands of National Socialist Germany and its supporters and accomplices during World War II (the Holocaust
Accusing the Jews as a people, or Israel as a state, of inventing or exaggerating the Holocaust.
Accusing Jewish citizens of being more loyal to Israel, or to the alleged priorities of Jews worldwide, than to the interests of their own nations.
Denying the Jewish people their right to self-determination, e.g., by claiming that the existence of a State of Israel is a racist endeavor.
Applying double standards by requiring of it a behavior not expected or demanded of any other democratic nation.
Using the symbols and images associated with classic antisemitism (e.g., claims of Jews killing Jesus or blood libel) to characterize Israel or Israelis.
Drawing comparisons of contemporary Israeli policy to that of the Nazis.
Holding Jews collectively responsible for actions of the state of Israel.

Antisemitic acts are criminal when they are so defined by law (for example, denial of the Holocaust or distribution of antisemitic materials in some countries).

Criminal acts are antisemitic when the targets of attacks, whether they are people or property -- such as buildings, schools, places of worship and cemeteries -- are selected because they are, or are perceived to be, Jewish or linked to Jews.

Antisemitic discrimination is the denial to Jews of opportunities or services available to others and is illegal in many countries.
Please note: Americans are still free to bash white people all they like.

Feel free to deny the Resurrection of Jesus Christ, accuse all white people of being "Nazis" and accuse them of racism for opposing mass immigration, push the conspiracy theory of "white privilege" despite discriminatory affirmative action/minority only loan programs and so on.

All that will still be allowed and actively encouraged!


Follow InformationLiberation on Twitter, Facebook, Gab and Minds.