YouTube, Twitter Censor President Trump's 20 Second Meme Video Criticizing Joe Biden
Chris Menahan
InformationLiberation
Oct. 04, 2019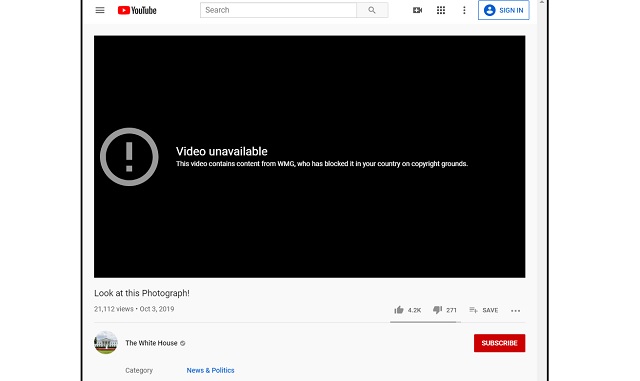 Google-owned YouTube censored President Trump and the official channel of the White House by honoring a fraudulent copyright complaint from Nickleback over a clearly fair use 16 second excerpt from their song "Look at this photograph" used in a meme video.

The video, which was posted to the official White House channel on Thursday, comes up with a statement reading: "Video unavailable. This video contains content from WMG, who has blocked it in your country on copyright grounds."

The video was taken down from Twitter on false copyright grounds the day before:


You can watch the video here (for now):


Everything about this video is fair use. It was only 16 seconds of music, it was transformative, it was not for profit and it was used for reasons of news reporting, education and political discussion. Additionally, it was shared by the f***ing President of the United States of America.

There's no way Twitter and Google don't know the ins and outs of fair use law -- they simply don't care.

They're just beta testing how Trump will respond to his own content being directly censored now that they've seen he has done nothing to respond to all of his supporters' content being censored.

Follow InformationLiberation on Twitter, Facebook, Gab and Minds.