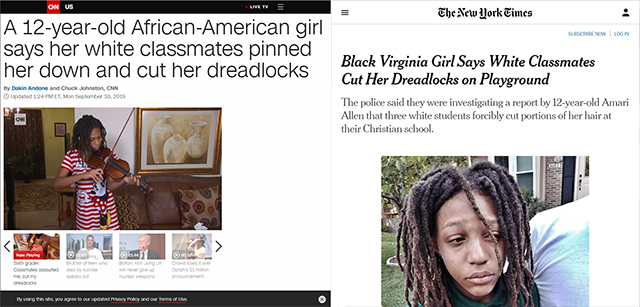 A 12-year-old African-American girl who claimed she was mobbed by a group of three white male classmates who pinned her down and cut off what they called her "nappy" and "ugly" dreadlocks made national and international news last week and a GoFundMe campaign was launched in her name.





The girl's story was picked up by CNN, The New York Times, BBC News and countless other outlets, all of which included the alleged race of the "victim" and the "assailants" in their headlines.

CNN's Keith Boykin reported the story as though it was fact (UPDATE: He deleted the tweet but it's archived here.: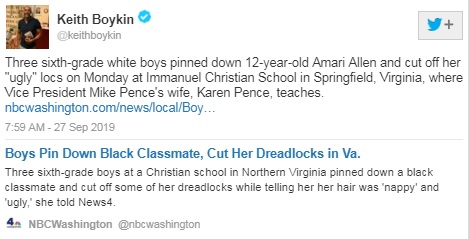 The story was highlighted by Democratic congresswoman Rashida Tlaib:


A protest in Virginia was organized with Mike Pence and his wife somehow being blamed:


It was all based on a lie.

From The Washington Post, "Virginia sixth-grader now says she falsely accused classmates of cutting her hair" (It's amazing how race is suddenly not a factor!):

The sixth-grade girl at a private Virginia school who accused three classmates last week of forcibly cutting her hair now says the allegations were false, according to statements from the girl's family and the principal at Immanuel Christian School in Springfield. School officials met with the girl and her family Monday morning before releasing the statement.

The 12-year-old, who is African American, said three white boy students held her down in a school playground a week ago during recess, covered her mouth, called her insulting names and used scissors to cut her hair.

The grandparents of the girl, who are her legal guardians, released an apology Monday.

"To those young boys and their parents, we sincerely apologize for the pain and anxiety these allegations have caused," the grandparents wrote in a statement sent to The Washington Post by the school. "To the administrators and families of Immanuel Christian School, we are sorry for the damage this incident has done to trust within the school family and the undue scorn it has brought to the school. To the broader community, who rallied in such passionate support for our daughter, we apologize for betraying your trust."

"We understand there will be consequences and we're prepared to take responsibility for them," the statement continued. "We know that it will take time to heal, and we hope and pray that the boys, their families, the school and the broader community will be able to forgive us in time."

[...] The school's principal, Stephen Danish, also issued a statement and sent an email to parents and community members.

"We can now confirm that the student who accused three of her classmates of assault has acknowledged that the allegations were false. We're grateful to the Fairfax County Police Department for their diligent work to investigate these allegations," Danish wrote. "While we are relieved to hear the truth and bring the events of the past few days to a close, we also feel tremendous pain for the victims and the hurt on both sides of this conflict. We recognize that we now enter what will be a long season of healing."

Fairfax police launched an investigation into the incident last week after they were contacted by the girl's family. The department said that they cannot comment on developments because the subjects involved are all juveniles.
Don't make us laugh with talk of "consequences."

There's not going to be any consequences.

The most noteworthy part of this story is this girl allegedly getting a bit of her hair cut off made international news while the murder of John Weed was ignored.

UPDATE: Here's how the New York Times decided to cover the follow-up story: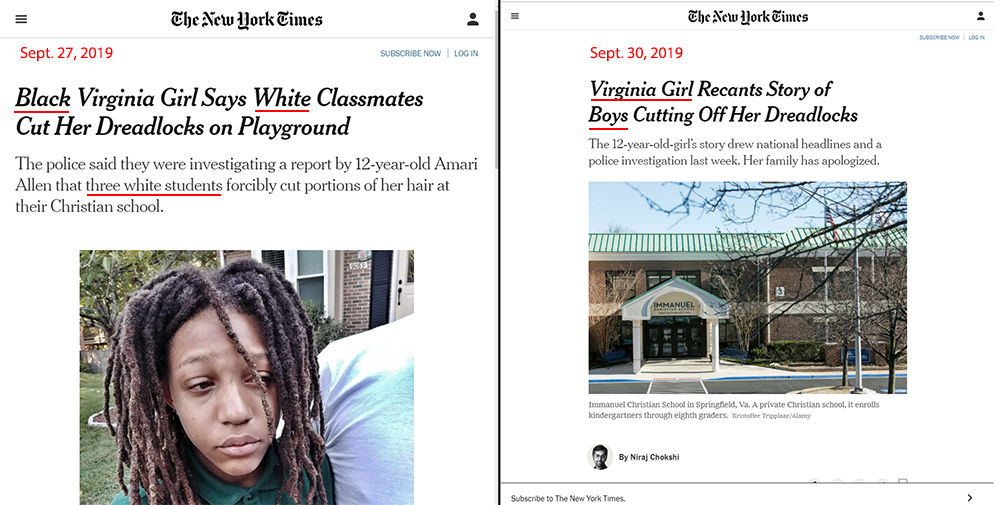 Can their agenda get any more transparent?

UPDATE II: WUSA9, who broke the initial story, deleted their video report from their website and YouTube where they went absolutely all in on this hoax and treated it as though it was entirely real (it's archived within this video).

"She's black and the three students who did this to her were white," reporter Mikea Turner said without any qualifiers.

WUSA9 host Annie Yu went on a long rant about the white kids who "attacked her" and lamented "the amount of hatred and rage that they're carrying within themselves to carry out this act."

WUSA9 and Mikea Turner also did a follow-up report bringing the girl on air to praise her hair and "black girl magic":


WUSA9 updated their articles to reveal it was a hoax and she "cut her own hair" but added this line to the end of their report: "Due to the girl's age and the circumstances, WUSA9 is no longer using the identity of her or her family."

Follow InformationLiberation on Twitter, Facebook, Gab and Minds.