San Francisco Board: NRA A 'Domestic Terrorist Organization' But 'Convicted Felons' Are 'Justice-Involved Persons'
Chris Menahan
InformationLiberation
Sep. 04, 2019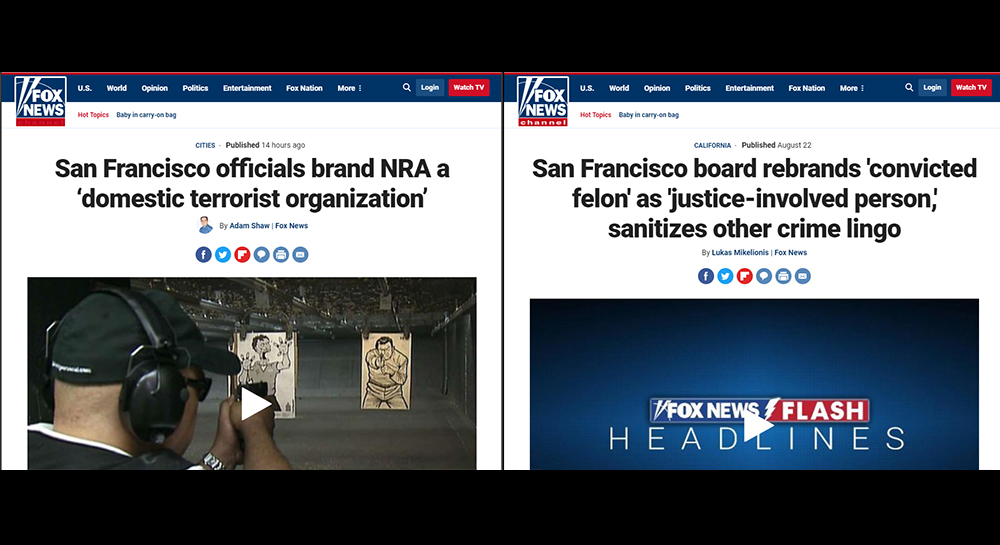 According to the San Francisco Board of Supervisors, the NRA is officially a "domestic terrorist organization" but "convicted felons" are "justice involved individuals."

From Fox News, Sept 4, "San Francisco Officials Brand NRA A 'Domestic Terrorist Organization'":

The San Francisco Board of Supervisors has passed a resolution declaring the National Rifle Association a "domestic terrorist organization" and urged the federal government to do the same – the latest escalation in the heated rhetoric from Democrats regarding the NRA in the wake of several deadly mass shootings.

The resolution, which passed Tuesday and says the U.S. is "plagued by an epidemic of gun violence," accuses the NRA of using "its considerable wealth and organization strength to promote gun ownership and incite gun owners to acts of violence."
From Fox News, Aug 22, "San Francisco board rebrands 'convicted felon' as 'justice-involved person,' sanitizes other crime lingo":

Crime-ridden San Francisco has introduced new sanitized language for criminals, getting rid of words such as "offender" and "addict" while changing "convicted felon" to "justice-involved person."

The Board of Supervisors adopted the changes last month even as the city reels from one of the highest crime rates in the country and staggering inequality exemplified by pervasive homelessness alongside Silicon Valley wealth.

The local officials say the new language will help change people's views about those who commit crimes.

According to the San Francisco Chronicle, from now on a convicted felon or an offender released from custody will be known as a "formerly incarcerated person," or a "justice-involved" person or just a "returning resident."

A juvenile "delinquent" will now be called a "young person with justice system involvement," or a "young person impacted by the juvenile justice system."

And drug addicts or substance abusers, meanwhile, will become "a person with a history of substance use."

"We don't want people to be forever labeled for the worst things that they have done," Supervisor Matt Haney told the newspaper. "We want them ultimately to become contributing citizens, and referring to them as felons is like a scarlet letter that they can never get away from."
Actual criminals are saints but legal gun owners are terrorists.

This is why "red flag" laws are a terrible idea.

Leftists have made it abundantly clear they're not interested in peaceful co-existence but are instead itching for civil war.

Follow InformationLiberation on Twitter, Facebook, Gab and Minds.