CNN's Cuomo: 'Please Don't Get Caught Up In The Intrigue Of Who Was Better Friends' With Epstein - 'Who Cares?'
Chris Menahan
InformationLiberation
Jul. 13, 2019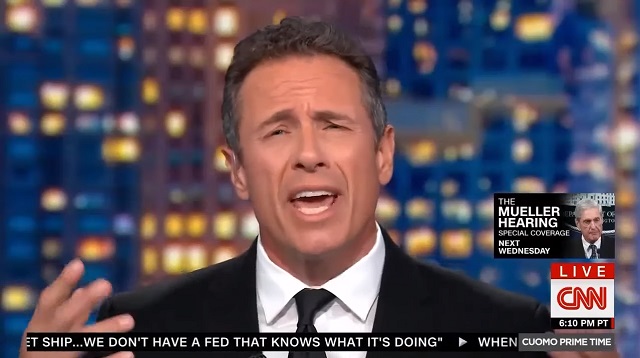 CNN host Chris Cuomo begged his viewers to "please" not "get caught up in the intrigue of who was better friends" with Jeffrey Epstein and instead focus on how the case was "handled."

"When we're talking about Epstein, you got to stick to what is common sense on these things, all right?" Cuomo said on his show Wednesday night. "Don't get buried in legalese, don't follow the finger-pointing, and please don't get caught up in the intrigue of who was better friends with this guy. Who cares? Let's take a look at the facts of what we know about how it was handled. Okay? We are going to dissect them with one of the best investigators around. What was done that seems fine and what was fugazi."



Cuomo and CNN analyst Asha Rangappa went on to focus almost entirely on Alexander Acosta and his deal with Epstein, which Cuomo said has to be taken in the context that it was "a different time" back then (it was 2008).



They completely ignored Vicky Ward's bombshell allegation that Acosta told the Trump transition team that "I was told Epstein 'belonged to intelligence' and to leave it alone."

Seeing as how Epstein allegedly wired his houses up with video cameras and microphones to surreptitiously record his high powered clients for possible blackmail purposes, knowing who his friends and associates are is a huge deal, especially considering his connections with at least two U.S. Presidents and one Israeli Prime Minister that we already know of.

UPDATE: Cuomo attended a party with Epstein two months after he was released from prison in 2010.





Gawker released Epstein's "Little Black Book" in 2015 and it was loaded with power players:






Multiple of Epstein's friends, including his lawyer Alan Dershowitz, have been accused of taking part in his alleged sex crimes (Dershowitz denies the charges but said he got a massage at Epstein's place from an "old, old Russian woman" and he "kept his underwear on").

The real undercurrent of this story is one of a systematic cover-up of potential intelligence agency blackmail. Every lead should be thoroughly investigated rather than covered-up and swept under the rug.

Follow InformationLiberation on Twitter, Facebook, Gab and Minds.