UK Telegraph Fearmongers: 'Tehran Sets Up Terror Cells In Africa As Western Sanctions Bite'
Chris Menahan
InformationLiberation
Jun. 25, 2019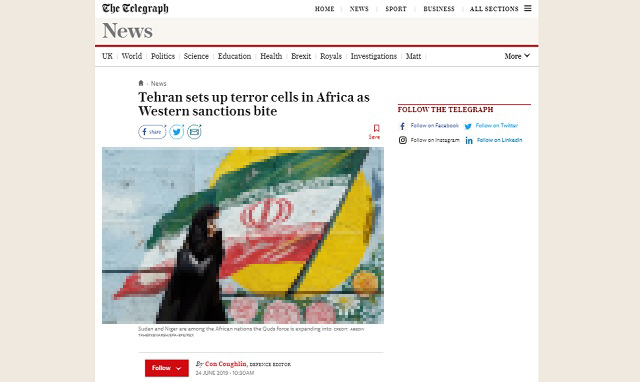 The Daily Telegraph ran a fearmongering propaganda piece claiming matter-of-factly that Iran is "setting up terror cells in Africa" to attack Americans, even though they admit in the body of the article that their source is anonymous "Western security officials."

From writer Con Coughlin on Monday in The Telegraph, "Tehran Sets Up Terror Cells in Africa as Western Sanctions Bite":

Iran is setting up a network of terror cells in Africa to attack US and other Western targets in retaliation for Washington's decision to impose sanctions against Tehran, according to Western security officials.

The new terror network has been established on the orders of Qassem Suleimani, the head of the Quds Force, the elite section of Iran's Republican Guard Corps that has responsibility for overseas operations.

The aim of the new terror cell is to target US and other Western military bases on the continent, as well as embassies and officials.
Note Coughlin's seamless transition between reporting these anonymous "Western security officials" statements as fact in one sentence before acknowledging he is just regurgitating what he's being fed in another.
The Iranian cells are said to be active in a number of African countries including Sudan, Chad, Ghana, Niger, Gambia and the Central African Republic.

"Iran is setting up a new terrorist infrastructure in Africa with the aim of attacking Western targets," a senior Western security source told The Daily Telegraph. "It is all part of Tehran's attempts to expand its terrorist operations across the globe."

Intelligence officials say Iran has been working on the new terror network for the past three years since signing the nuclear deal on freezing its uranium enrichment activities with the US and other major world powers in 2015.
How convenient that they started this effort immediately after signing the Iran nuclear deal!

It's just all so perfect!

Note, "Western security officials" could mean almost anyone. That said, the story so far is getting almost no traction and a search of the story on Twitter shows it's mainly being tweeted out by various Israeli government officials and a few well-funded pro-Israel groups (only 24 results total came back, most of which have little to no interactions).

Israel's Foreign Ministry Spokesman:


Diplomat, Spokesperson of the Embassy of Israel in the UK and Ministry of Foreign Affairs of Israel:


Diplomat, Deputy Head of Mission, Embassy of Israel in Canada:


Thomas Kaplan/Sheldon Adelson-funded group United Against Nuclear Iran:


Thomas Kaplan-funded group the Counter Extremism Project:


Influential pro-Israel donor/power player Adam Milstein:


I'm sure we can trust these anonymous "Western security officials" are telling us the God's honest truth and no ulterior motives are at play!

Follow InformationLiberation on Twitter, Facebook, Gab and Minds.