Border Patrol Catches 116 West Africans Invading U.S. Southern Border
Chris Menahan
InformationLiberation
Jun. 04, 2019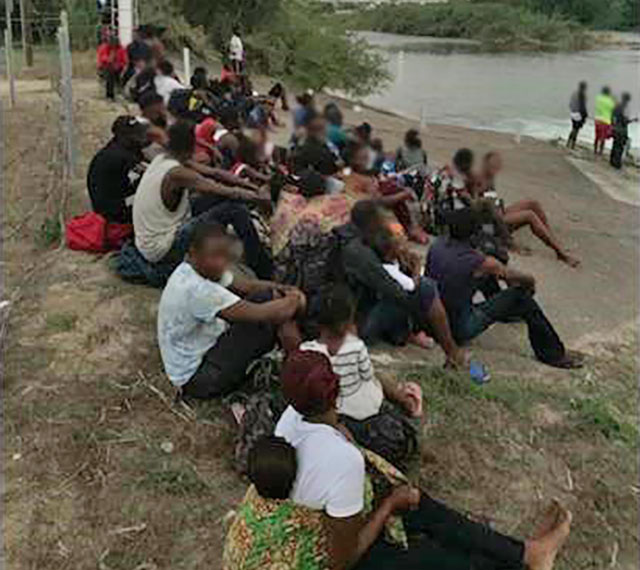 US Border Patrol caught a large group of 116 illegal aliens "consisting entirely of African nationals" invading America through the Del Rio Sector of Texas.

From U.S. Customs and Border Protection:

First large group from Africa apprehended

DEL RIO, Texas – U.S. Border Patrol agents assigned to the Del Rio Station apprehended a large group of 116 individuals Thursday.

"Large groups present a unique challenge for the men and women of the Del Rio Sector," said Chief Raul Ortiz. "This large group from Africa further demonstrates the complexity and severity of the border security and humanitarian crisis at our Southwest border."

Agents performing line watch operations apprehended the group after they illegally crossed the Rio Grande into the U.S. around 10:30 p.m.

This is the first large group apprehended in the Del Rio Sector and the first large group of people from Africa – including nationals from Angola, Cameroon and Congo - apprehended on the Southwest border this year.

Agents have encountered 182 large groups of more than 100 individuals across the Southwest border so far this fiscal year.
VIDEO:



The situation at the border has never been worse:



This situation is largely due to the bipartisan open borders bill passed by congress in February and signed by President Trump into law. Trump could have vetoed the legislation and demanded Republicans amend it but he chose not to -- and this is where we're now at.

On the good news front, Axios reported Monday that a federal judge "rejected an effort by House Democrats to block President Trump's use of emergency powers to reprogram military funds for his border wall."


Follow InformationLiberation on Twitter, Facebook, Gab and Minds.