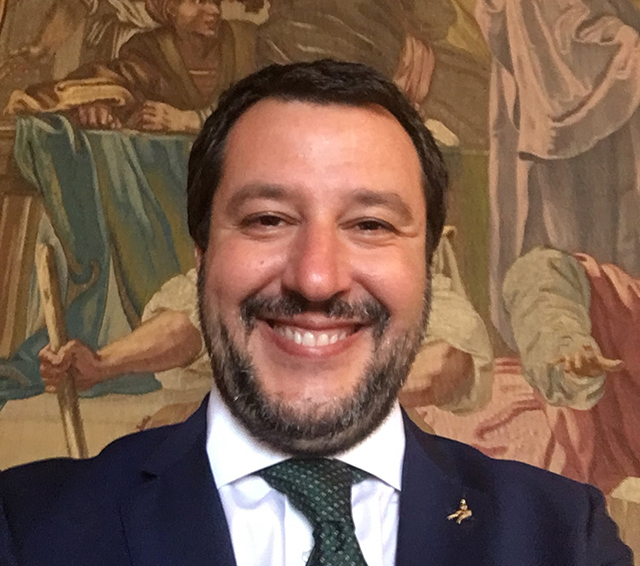 Italian Interior Minister Matteo Salvini on Sunday hailed the victories of Marine Le Pen, Nigel Farage and other nationalists in the European parliamentary elections.

From Sputnik, "Salvini Declares 'NEW Europe is Born' Amid Right-Wing Surge in EU Elections":

The resounding success claimed by the League party in Italy, the National Rally party in France and the Brexit Party in the UK in the just-held elections to the European Parliament are a sign of changes in Europe and mark the beginning of a "new European Renaissance", said Matteo Salvini, Italy's deputy prime minister, interior minister and leader of the League Party at Lega's headquarters in Milan.

"A new Europe is born. I am proud that the League is participating in this new European renaissance," Salvini said after exit polls predicted his party had won 27-31 percent of votes.


"Significantly, as 'League' become the dominant party in Italy, Marine Le Pen swept into a leading position in France, and Nigel Farage in the UK," said Salvini.

"This is a sign that Europe is changing, Europe is tired of being a slave to the elites, corporations and the powers-that-be," he told reporters in Milan.

The League's coalition partner, the anti-establishment Five Star Movement (M5S) was beaten by the centre-left Democratic Party (PD) which placed second with 21-25 percent, exit polls showed after voting ended at 2100 GMT.

[...] Back in March 2018 Matteo Salvini's League came in third in the nation's general election, with just 17 percent of the vote, while M5S attracted over 32 percent. Five years ago, Lega barely overcame the 6 percent barrier.
Viktor Orban also saw an overwhelming victory in Hungary.

From The Hungary Journal, "Fidesz wins the European election":

Fidesz alliance with the Christian Democrats won the European Parliament election with 52.14 percent amid a higher-than-projected turnout in Sunday's vote.

Results with 99.9 percent of the votes counted:

FIDESZ-KDNP – 1,777,757 votes (52.14 percent)
DK – 554,286 (16.26 percent)
MOMENTUM – 338,314 (9.92 percent)
SOCIALISTS-PARBESZED – 227,786 (6.68 percent)
JOBBIK – 219,539 (6.44 percent)
MI HAZANK – 113,529 (3.33 percent)
TWO-TAILED DOG PARTY – 89,635 (2.63 percent)
LMP – 74,554 (2.19 percent)
HUNGARIAN WORKERS' PARTY – 14.385 (0.42 percent)

Prime Minister Viktor Orban, reflecting on his Fidesz party's victory, said Hungarians had entrusted the ruling alliance with three objectives: to stop immigration across Europe, to protect a Europe of nations and to protect Christian culture in Europe.

Orban said that it was now clear that Hungarians think that change is needed in Brussels. Leaders who represent the interests of European people and who respect Europe's nations are needed, he said. Also leaders "who are proud of our two-thousand-year-old Christian culture" are in demand, Orban added.

He said the interests of Hungary would always be put first in Brussels and cooperation would be sought with those who want to stop immigration. Orban said that with the high turnout Hungary had proven that "it is a European nation, a European country, that our place is in Europe, that Europe is our home, too, and so we want to change it."
Poland's governing Law and Justice party also achieved a record victory.

From the Times of Israel, "Poland's ruling party tops EU polls after campaign marked by restitution fight":

Poland's governing right-wing Law and Justice party (PiS) narrowly came out on top in European elections Sunday, exit polls showed, with its leader Jaroslaw Kaczynski urging a wider victory in the next general election.

The PiS took 42.4 percent of the vote to win 24 of Poland's 51 seats in the European Parliament compared with 39.1 percent and 22 seats for the liberal European Coalition, according to the IPSOS pollsters.

The progressive Spring party took 6.6 percent for three seats and 6.l percent (3 seats) went to the far-right Confederation group.

[...]The PiS campaign was also marked by strong rhetoric against gay rights and a refusal to honor Jewish claims for the compensation of properties lost during the Holocaust.

Last week, Polish Prime Minister Mateusz Morawiecki vowed that his country will never pay restitution for Jewish properties stolen during the Holocaust, saying that such a move would be a "victory for Hitler."
Greece's ruling far-left SYRIZA party got clobbered.

From Ekathimerini, "Voters send clear message after ND win in EU elections":

The comfortable lead (9.5 pct) secured by the Conservatives over ruling SYRIZA in the European Elections in Greece on Sunday pointed to a clear shift in the political direction selected by voters in the country.

The gap between ND and SYRIZA is the widest ever recorded between the first two contenders in the nine European Elections held in the country since 1981.

With 74.75 percent of the votes counted by 09:35 a.m. (EEST) on Monday, New Democracy had garnered 33.25 percent (which corresponds to 7 seats in the European Parliament), leftist SYRIZA had 23.74 percent (6 seats), centre-left Movement for Change (KINAL) had 7.51 percent (2 seats), the Communist Party KKE had 5.53 percent (2 seats), neo-Nazi Golden Dawn had 4.87 percent (2 seats), pro-Russian right-wing party Greek Solution with 4.12 percent (1 seat) and the Diem25 party of former finance minister Yanis Varoufakis had 3.05 percent of the vote (1 seat).
In what may be a sign of things to come, Ekathimerini also reported many young voters are shifting hard right.

From Ekathimerini, "Young voters give lead to New Democracy; show leaning toward Golden Dawn":

Young voters aged 17 to 24 years old showed their preference for opposition New Democracy in Sunday's European Parliament elections, giving the center-right party 30.5 percent of the vote, according to an exit poll.

Ruling leftist SYRIZA came in second place among this group of voters at 25.6 percent, though the upset lay in the youth vote for Golden Dawn, with the neo-Nazi party seen gleaning 13.3 percent of the vote.
The general trend throughout Europe was establishment parties getting routed, nationalist parties seeing a surge and left-wingers shifting further left.

The greatest victory was Nigel Farage's Brexit Party which came out of nowhere to absolutely destroy the Conservatives and Labour.




From Breitbart, "Farage Declares 'This Is Just the Beginning' After Brexit Party Victory in EU Elections":

Nigel Farage has led the Brexit Party to victory while the establishment parties are left assessing the damage after their historic losses, with the Brexiteer declaring: "This is just the beginning."

With almost all regions counted, the Brexit Party is in the clear lead after winning around one-third of the vote and projected to have gained 29 seats. In a distant second, the pro-Remain Liberal Democrats won 15 seats, while the new Change UK (CUK), established solely to stop Brexit, failed to gain a single seat.

"Never before in British politics has a party just 6 weeks old won a national election," Mr Farage posted to Twitter Monday morning. "If Britain does not leave the EU on October 31st, these results will be repeated at a general election.

"History has been made. This is just the beginning."

Media reports that the Tories suffered their worst election result in two centuries, dropping to just nine per cent of the vote and winning only four seats — losing 15 — while the Labour Party is said to have had its worst election result in 100 years, halving its presence in the European Parliament from 20 to just ten seats.
This is more evidence the nationalist resurgence is not just a flash in the pan but the future of the West.

Follow InformationLiberation on Twitter, Facebook, Gab and Minds.