CNN Falsely Reports 'Voters Chose' Juan Guaido For President Over Nicolas Maduro 'In January'
Chris Menahan
InformationLiberation
May. 07, 2019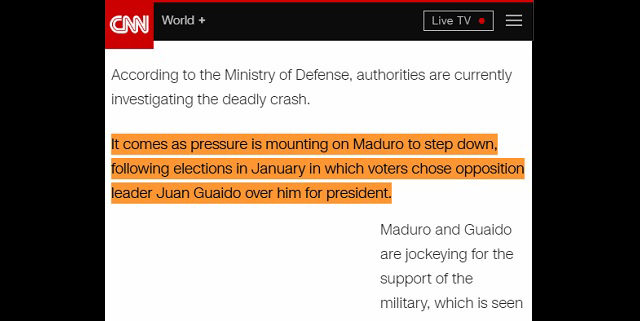 CNN falsely reported on Sunday that Venezuelans voted to elect US-backed opposition leader Juan Guaido as their president over Nicolas Maduro "in January."

The false claim was found in a report on a Venezuelan military helicopter crash on Saturday in Hatillo which killed all seven on board.

The article had bylines from six different CNN reporters: Jeanne Bonner, Jackie Castillo, Ryan Browne, Claudia Dominguez, Sandra Sanchez and Natalie Gallon.

After reporting on the deadly crash, CNN wrote:

"It comes as pressure is mounting on Maduro to step down, following elections in January in which voters chose opposition leader Juan Guaido over him for president."
There were no elections in January and Venezuelans did not choose Guaido over Maduro to be their president.

Juan Guaido simply declared himself "interim president" in January and a host of nations including the United States (which just spent three years whining about "Russian interference" in America's 2016 election) backed his declaration.

After their falsehood was exposed, CNN added a correction at the bottom of the article reading:

"CORRECTION: An earlier version of this story incorrectly described how Juan Guaido came to be Venezuela's self-declared president."
They changed the other line to say:

"Pressure has been mounting on Maduro to step down since January, when opposition leader Juan Guaido declared himself interim president and was backed by the US and dozens of other nations."
If you're wondering why CNN and the legacy media is so desperate to censor all independent media -- look no further. They want to go back to a time when they could lie to their readers with impunity with no one being able to counter their falsehoods.

Follow InformationLiberation on Twitter, Facebook, Gab and Minds.