The FBI is going all out to prevent fed up Americans from defending our southern border at a time of record illegal immigration.

In the latest twist in the case of the United Constitutional Patriots, the FBI released allegations from 2017 claiming Larry Mitchell Hopkins, 69, whom the media is claiming is the "militia leader" of the group, allegedly made some sort of reference to their group "training" to assassinate Barack Obama, Hillary Clinton and George Soros. They also claim someone called in a "tip" to the FBI's public tip line telling them just the same.

You can rest assured these claims are almost certainly bulls**t because Hopkins was never prosecuted for any such so-called assassination "training" and it's only now being discussed.

From NBC News, "Leader of militia detaining migrants allegedly said group trained to assassinate Soros, Clinton, Obama, complaint says":

A leader of a New Mexico militia that has been detaining migrant families at the U.S.-Mexico border said that the group was "training to assassinate George Soros, Hillary Clinton, and Barack Obama," according to an FBI agent's sworn deposition describing reports phoned into the agency's public tip line.

Larry Mitchell Hopkins, 69, was arrested Saturday on suspicion of being a felon in possession of a firearm and ammunition and made an initial appearance in federal court in Las Cruces, New Mexico, on the charge Monday.
This is one "tip" they received to a public tip line, possibly anonymously. Literally anyone could have made it. As we all know, these militia groups are overflowing with feds.

They go on to say Hopkins himself also made the same statement, though even NBC News tacitly acknowledged how strange the story sounded.
[...] In an affidavit filed Saturday in support of Hopkins' arrest, the FBI agent said that in October 2017, the agency's public access line received reports of "alleged militia extremist activity" in Flora Vista, New Mexico, based out of Hopkins' home, with the group being supported by about 20 members who were "armed with AK-47 rifles and other firearms."

"Hopkins also allegedly made the statement that the United Constitutional Patriots were training to assassinate George Soros, Hillary Clinton, and Barack Obama, because of these individuals' support of Antifa," the complaint said, referring to so-called anti-fascist activists.

It was not clear when and to whom Hopkins made these statements. Hopkins' attorney, Kelly O'Connell, said his client denies the allegations.

"He says that is categorically false that that's what they were doing," O'Connell said. "There was no plan to do any of that."
At least 10 of the guns Hopkins had in his home were actually owned by his wife, so the gun charge against him the FBI drummed up also sounds like nothing more than an excuse to have him arrested.
In late November of 2017, two FBI special agents went to Hopkins' residence, were invited in and led to a room known as his "office," where they observed about "10 firearms leaning against a wall in a closet in plain view," according to the complaint.

When asked who the firearms belonged to, Hopkins said all the firearms in the home were owned by Fay Sanders Murphy, who lives at the residence and was described as his "common law wife," according to the complaint.

Hopkins also disclosed to the agents that there were additional weapons in the home, including a shotgun, a handgun in the bedroom and another handgun in the kitchen, according to the complaint.

Both Hopkins and Murphy gave the agents consent to search the residence, the complaint said, and showed them the location of the other firearms.

He walked one agent to the kitchen and brought a black tactical vest and said, "that's my black right there and it is loaded," according to the complaint. The agents recovered a loaded firearm from a holster attached to the vest, the complaint said.

In the master bedroom, Hopkins directed an agent to a loaded Blackhawk 12-gauge shotgun and said, "it is legal, actually that shotgun was given to my wife from one of my men," the complaint said.

The special agent who wrote the complaint said that after searching the residence, he discovered Hopkins had prior felony convictions.

Hopkins' lawyer questioned why his client was arrested Saturday, when the search of his property happened in 2017.

"If it was that outrageous of a crime, why not lock him up right then?" O'Connell said, adding he questioned why "this charge suddenly comes up" while Hopkins was in the public eye over the debate regarding the actions of the United Constitutional Patriots at the border.
That's the key line which most of the media, including the New York Times, neglected to report entirely.

This is how the FBI's smear jobs and frame-ups work. They ran the same scam with Trump's campaign associates after he won the presidency and now they're running it against this group for daring to protect our southern border.

These are not the actions of an intelligence agency dedicated to defend America but of a hostile force intending to destroy America from within.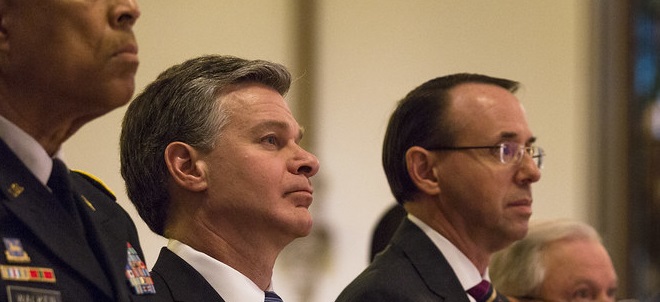 Rod Rosenstein reportedly plotted to secretly record President Trump to have him impeached under the 25th Amendment and yet he still has his job.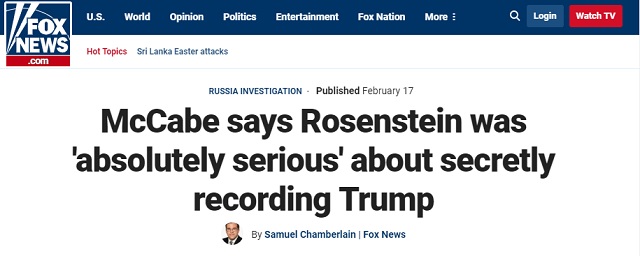 It's become so obvious that the Washington Post is now writing stories saying being spied on by foreign agents makes our country stronger.


"Our" government is now our own.

We just elected a billionaire wild man against all odds to throw a wrench into the system and yet he's being forced to continue all the policies of his predecessors without missing a beat.

Follow InformationLiberation on Twitter, Facebook, Gab and Minds.