African Christian Preacher Arrested In London, Cop Says 'Nobody Wants to Listen to That'
Chris Menahan
InformationLiberation
Feb. 25, 2019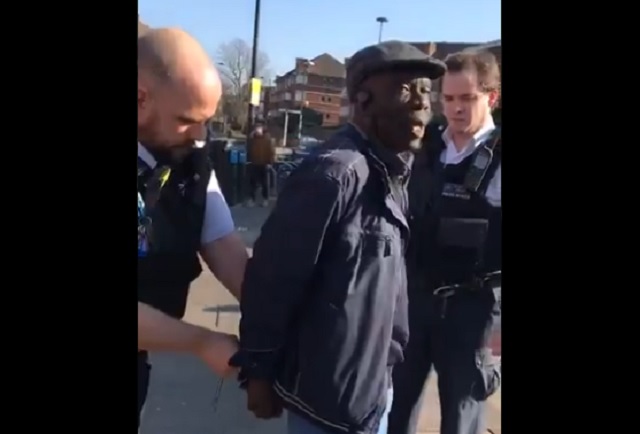 Viral video shared Saturday on Twitter shows an African Christian preacher getting arrested for preaching the gospel in London.

"Jesus is on the way, the truth and the life," the preacher is heard saying.

"I appreciate that, I appreciate that, but nobody wants to listen to that," the British cop responds, "they want you to go away."

Cops are seen confiscating his bible and placing him under arrest as he protests saying, "don't take my bible away!"


Leave.EU contrasted the video with another one showing a Muslim preacher shouting angrily in a police officer's face.

The officer is seen telling the public that "this young man has the right to assembly" and can use whatever offensive speech he wants.


CBN has more:

Faithwire reached out to the Metropolitan Police for more information surrounding the incident. The police admitted that, despite the officer's comments accusing the preacher of being "racist," nothing of this nature had been said by the Christian man. They also noted that "no language of this nature was used in the presence of officers."

"The initial report suggested some Islamophobic language had been used," the police force told Faithwire. "However nobody has made a formal allegation to this effect and no language of this nature was used in the presence of officers."

As for the arrest itself, the police confirmed that this was made on account of the man "breaching the peace."

"An arrest was made to prevent a breach of the peace," the police noted, adding, "The man was then de-arrested and no further action was necessary."
To "prevent a breach of the peace."

In other words, this was a pre-crime arrest to prevent a potential speech crime.

Follow InformationLiberation on Twitter, Facebook, Gab and Minds.