Mother Arrested For Calling A Transgender Woman A Man On Twitter
Chris Menahan
InformationLiberation
Feb. 11, 2019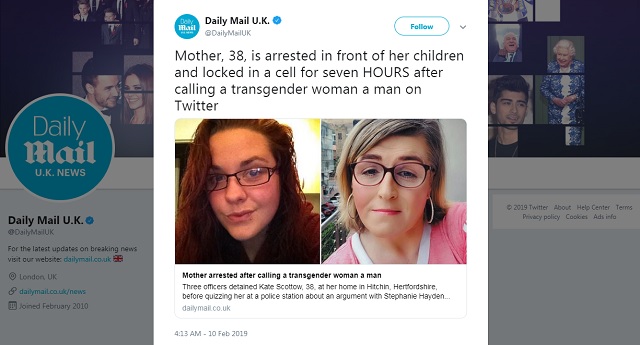 A mother in the United Kingdom was reportedly arrested for calling a biological man a man on Twitter.

From The Daily Mail:

A mother was arrested in front of her children and locked up for seven hours after referring to a transgender woman as a man online.

Three officers detained Kate Scottow at her home before quizzing her at a police station about an argument with an activist on Twitter over so-called 'deadnaming'.

The 38-year-old, from Hitchin, Hertfordshire, had her photograph, DNA and fingerprints taken and remains under investigation.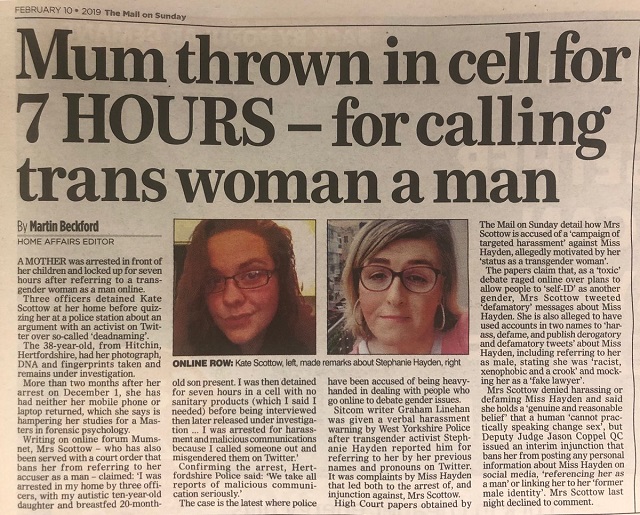 More than two months after her arrest on December 1, she has had neither her mobile phone or laptop returned, which she says is hampering her studies for a Masters in forensic psychology.

Writing on online forum Mumsnet, Mrs Scottow – who has also been served with a court order that bans her from referring to her accuser as a man – claimed: 'I was arrested in my home by three officers, with my autistic ten-year-old daughter and breastfed 20-month-old son present.

'I was then detained for seven hours in a cell with no sanitary products (which I said I needed) before being interviewed then later released under investigation ... I was arrested for harassment and malicious communications because I called someone out and misgendered them on Twitter.'

Confirming the arrest, Hertfordshire Police said: 'We take all reports of malicious communication seriously.'
This is probably a good time to remind everyone that transgenders can spew this type of hate and not only not get arrested but get featured on the BBC:


Really makes you think.

Follow InformationLiberation on Twitter, Facebook, Gab and Minds.