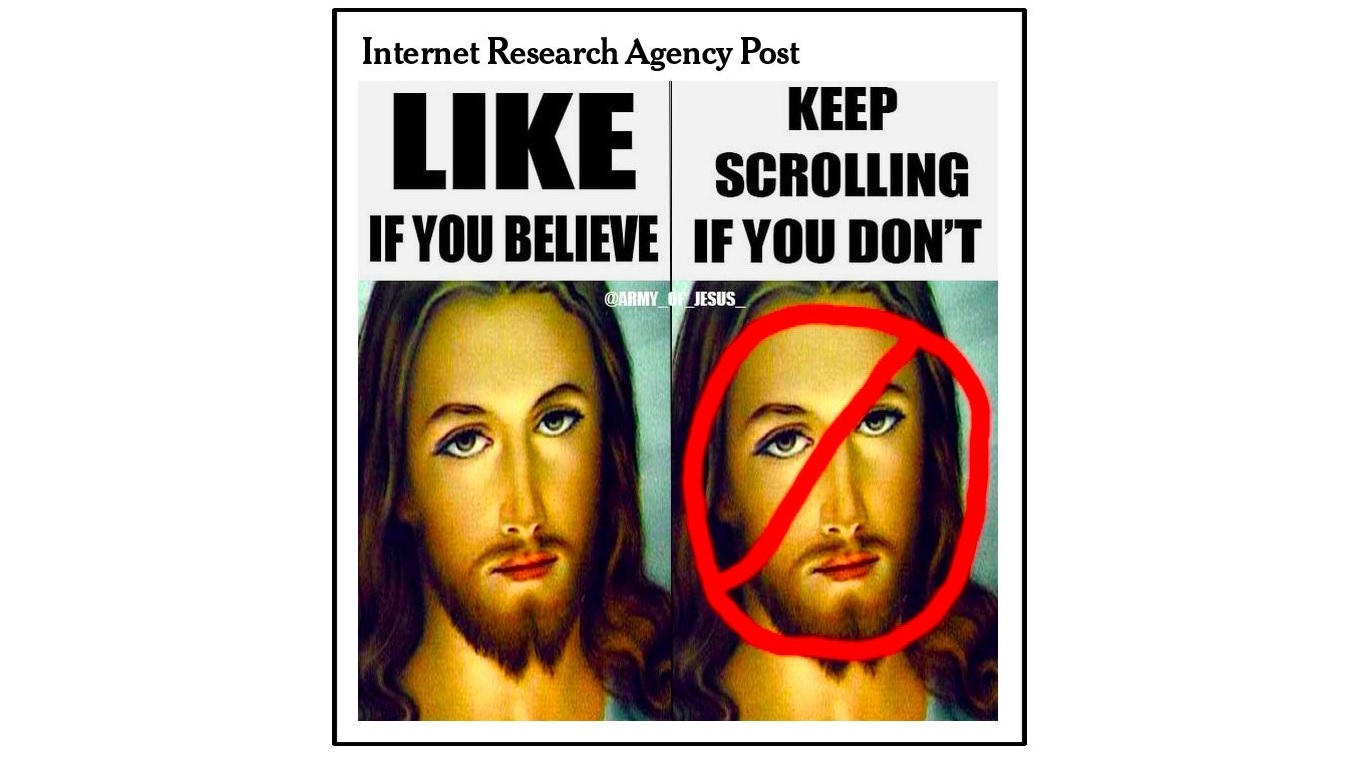 The New York Times released a selection of some of the most popular social media posts the Russians are alleged to have shared during or after the 2016 election and it turns out they're almost all D-tier memes which likely influenced no one.

The only non-meme was one post which was an actual video of American cops beating someone.

From The New York Times:

Posted Sept. 8, 2016, by the Being Patriotic Facebook page



With the message:

"At least 50,000 homeless veterans are starving dying in the streets, but liberals want to invite 620,000 refugees and settle them among us. We have to take care of our own citizens, and it must be the primary goal for our politicians!"

640,390 'Shares'
Trump cited those numbers during a debate with Clinton. Most people think veterans should get preference over fake refugees. Hillary Clinton did not. Regardless, they want you to think that meme swayed the election.
Posted March 2, 2016, by the Instagram account @army_of_jesus_



It garnered the most likes of any Instagram post before the election.

87,750 Likes
That's another D-tier boomer meme. It's not even political.

Posted Nov. 23, 2016, by the Blacktivist Facebook page



With this message:

"PLEASE HELP THIS VIDEO GO VIRAL. THESE COPS CAN BEAT UP INNOCENT MAN, GET AWAY WITH MURDER EVEN WHEN IT`S CAUGHT ON CAMERA JUST BECAUSE THEY WEAR A 'MAGICAL' BADGE AND GUN."

539,012 Shares

In this authentic video footage, which circulated widely on the web, three white police officers hold down a black man and one officer punches him repeatedly in the head while trying to put handcuffs on him. Blacktivist was one of 30 Facebook pages created by the Internet Research Agency and devoted to African-American themes.
The video is authentic and was shared by tons of other people.
Posted June 11, 2017, by the Instagram account @blackstagram_



With the message:

"What is your color? @expressiontees @kahmune #blackexcellence #blackpride #blackandproud #blackpower #africanamerican#melanin #ebony #panafrican #blackcommunity #problack #brownskin #unapologeticallyblack #blackgirl #blackgirls #blackwomen #blackwoman."

254,179 Likes

After the 2016 election, the Russian trolls did not stop their work -- and on Instagram they actually stepped it up. Many of the posts aimed at African-Americans, like this one, were essentially apolitical and carried heartwarming messages. As in many of the Internet Research Agency memes, the image and message were not created in Russia but taken from elsewhere: in this case, an advertisement for a black-owned footwear company named Kahmune. Experts who have studied the Internet Research Agency say such posts build a loyal audience, essentially preparing the ground for whatever future political message the Russian government may want to spread.
As Moon of Alabama has highlighted in the past, there's a good chance the Internet Research Agency is actually just a marketing company which used the election to build fake profiles for profit.

An Internet Research Agency cross-platform brand



The Black Matters theme was first created on a Facebook page in June 2015. But in the months that followed, Internet Research Agency operators spread the same brand across many platforms: Google+, Twitter and Instagram, where @blackmattersus drew 28,466 followers and 1,929,855 engagements -- likes and shares. A YouTube channel with the same name posted 95 videos. There were Facebook and Google ads. A podcast ran on SoundCloud linked to a blog on Tumblr. Like any commercial enterprise, the Russian troll factory built an image and brand name using every possible online tool -- all of them provided by American companies.
That's the only mildly interesting one. It's no different than 99% of the other garbage posted to Twitter. The fact it's pushing a leftist agenda is just supposed to be ignored.

Three out of five of these "most popular" posts are leftist garbage but the media wants you to believe they somehow won Trump the election.

Follow InformationLiberation on Twitter, Facebook, Gab and Minds.