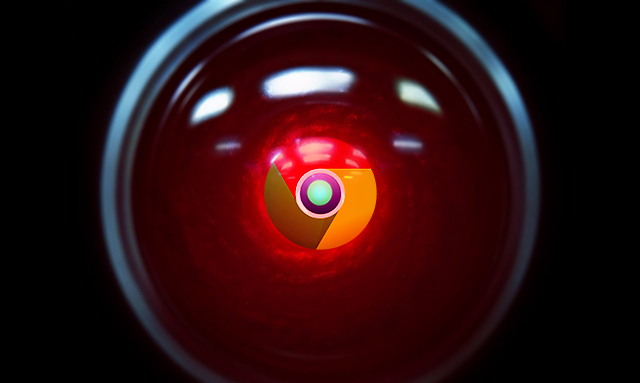 Google employees reacted to news of Donald Trump's win by discussing how best to censor right-wing news sites like Breitbart and The Daily Caller.

They went through with all of this -- just not quite so blatantly.

From The Daily Caller:

Google employees debated whether to bury conservative media outlets in the company's search function as a response to President Donald Trump's election in 2016, internal Google communications obtained by The Daily Caller News Foundation reveal.

The Daily Caller and Breitbart were specifically singled out as outlets to potentially bury, the communications reveal.

Trump's election in 2016 shocked many Google employees, who had been counting on Democratic nominee Hillary Clinton to win.
Communications obtained by TheDCNF show that internal Google discussions went beyond expressing remorse over Clinton's loss to actually discussing ways Google could prevent Trump from winning again.

"This was an election of false equivalencies, and Google, sadly, had a hand in it," Google engineer Scott Byer wrote in a Nov. 9, 2016, post reviewed by TheDCNF.

Byer falsely labeled The Daily Caller and Breitbart as "opinion blogs" and urged his coworkers to reduce their visibility in search results.

"How many times did you see the Election now card with items from opinion blogs (Breitbart, Daily Caller) elevated next to legitimate news organizations? That's something that can and should be fixed," Byer wrote.

"I think we have a responsibility to expose the quality and truthfulness of sources – because not doing so hides real information under loud noises," he continued.

"Beyond that, let's concentrate on teaching critical thinking. A little bit of that would go a long way. Let's make sure that we reverse things in four years – demographics will be on our side." [Emphasis added]
Everyone is aware of the importance of demographics except the GOPe.
Some of Byer's colleagues expressed concern that manipulating search results could backfire and suggested alternative measures.

One Google engineer, Uri Dekel, identified himself as a Clinton supporter but argued that manipulating search results was the wrong route to take.

"Thinking that Breitbart, Drudge, etc. are not 'legitimate news sources' is contrary to the beliefs of a major portion of our user base is partially what got us to this mess. MSNBC is not more legit than Drudge just because Rachel Maddow may be more educated / less deplorable / closer to our views, than, say Sean Hannity," Dekel wrote in a reply to Byer.

"I follow a lot of right wing folks on social networks you could tell something was brewing. We laughed off Drudge's Instant Polls and all that stuff, but in the end, people go to those sources because they believe that the media doesn't do it's job. I'm a Hillary supporter and let's admit it, the media avoided dealing with the hard questions and issues, which didn't pay off. By ranking 'legitimacy' you'll just introduce more conspiracy theories," Dekel added.

"Too many times, Breitbart is just echoing a demonstrably made up story," Byer wrote in a reply to his original post. He did not cite any examples.

"That happens at MSNBC, too. I don't want a political judgement. The desire is to break the myth feedback loop, the false equivalency, instead of the current amplification of it," Byer added.

"What I believe we can do, technically, that avoids the accusations of conspiracy or bias from people who ultimately have a right and obligation to decide what they want to believe, is to get better at displaying the 'ripples' and copy-pasta, to trace information to its source, to link to critiques of those sources, and let people decide what sources they believe," another Google engineer, Mike Brauwerman, suggested.
Google unquestionably downranked Breitbart, especially on Google news, but more than that they blatantly rigged YouTube's search algorithms to suppress right-wing, independent content producers.





It appears they've decided the best method of attack is boosting the hell out of pro-establishment neocons like Ben Shapiro and Jordan Peterson on YouTube and Ben Shapiro's site The Daily Wire on Google.

All one has to do to see this is the case is look at their "suggested/related" videos on the right of YouTube if they view any right-wing content. As both of them push irrelevant neoconservative talking points and eschew nationalism and populism, they fit perfectly with YouTube's stated goal of "deradicalization" and "fighting extremism."

Alex Jones and other right-wing populists and nationalists have either been banned outright or simply demonetized and suppressed.

A newly released study from Ahrefs found Alex Jones was the 40th most searched term on YouTube in 2018. Neither Ben Shapiro nor Jordan Peterson made the top 100.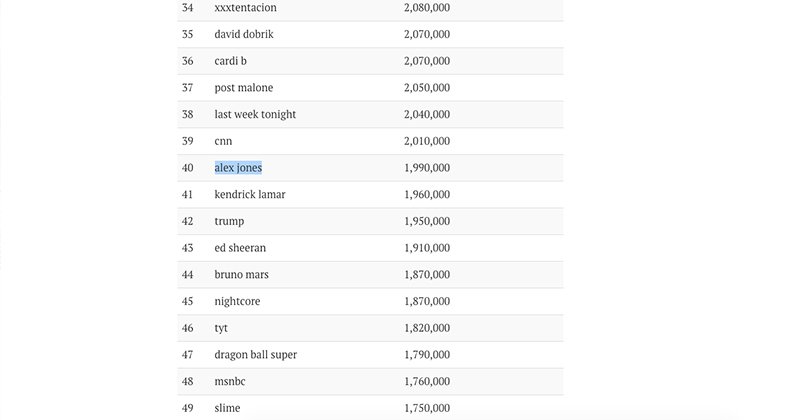 These trillion dollar companies are sacrificing their platforms and their credibility to desperately try and put the nationalist/populist genie back in the bottle.

As I reported earlier this week, The New York Times Editorial Board has reduced themselves to outright begging the US government and corporate America to implement authoritarian censorship of social media in the name of stopping "toxic ideas" from spreading.

They know this is only going to make our message more powerful but they don't care because they're desperate to seize back power.

Follow InformationLiberation on Twitter, Facebook, Gab and Minds.