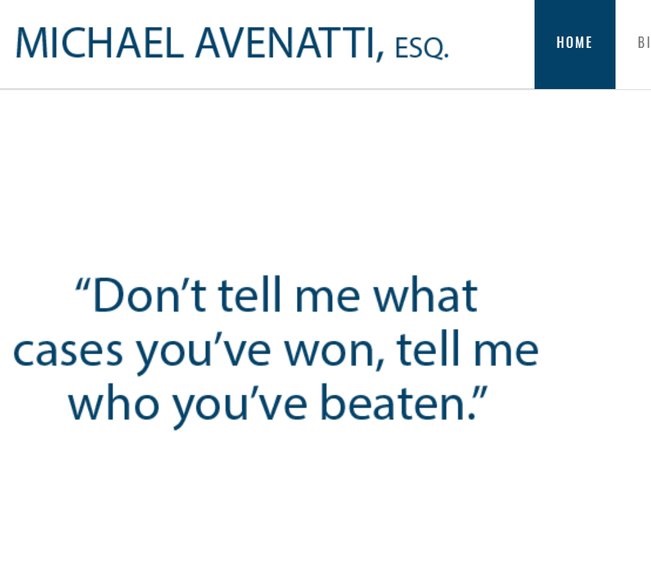 Life comes at you fast.

From TMZ:

Michael Avenatti, who became famous for representing Stormy Daniels in her battle with President Trump, has been arrested for felony domestic violence ... law enforcement sources tell TMZ.

Our law enforcement sources say Avenatti was arrested Wednesday after a woman filed a felony DV report. We're told her face was "swollen and bruised" with "red marks" on both cheeks.

Our sources say the alleged incident occurred Tuesday night, but there was another confrontation Wednesday between the two at an exclusive apartment building in the Century City area of L.A.

We're told Wednesday afternoon the woman was on the sidewalk on her cellphone with sunglasses covering her eyes, sobbing and screaming on the phone, "I can't believe you did this to me. I'm going to get a restraining order against you."

We're told security brought her inside the building, took her upstairs and Michael showed up 5 minutes later and ran into the building. He screamed repeatedly, "She hit me first." We're told he angrily added, "This is bulls***, this is f***ing bulls***." We're told he tried getting into the elevator but security denied him access.
Women deserve to be believed!

From Fox News:

"We can confirm that today LAPD Detectives arrested Michael Avenatti on suspicion of domestic violence," the LAPD tweeted. "This is an ongoing investigation and we will provide more details as they become available."


The charges arose from an alleged Tuesday incident, prompting authorities to respond and take a report, an unidentified law enforcement official told The Associated Press.

Avenatti released a statement through his law office denying the allegations.

"I wish to thank the hard working men and women of the LAPD for their professionalism they were only doing their jobs in light of the completely bogus allegations against me," the statement said. "I have never been physically abusive in my life nor was I last night. Any accusations to the contrary are fabricated and meant to do harm to my reputation. I look forward to being fully exonerated."

Avenatti was formally charged with felony domestic violence and his bail was set at $50,000, LAPD Officer Rosario Herrera told Fox News. He is being held at the Pacific Jail facility.
Sorry bro, the allegations are enough to make clear you deserve to be locked up -- this the standard you set during the Kavanaugh hearings.

Questioning her story is "attacking an assault victim," as you yourself said in September after people questioned your client Julie Swetnick's story.

CNN waited longer than everyone else to break the news to their readers:



I wonder why?


As a reminder, Juanita Scarlett, the wife of CNN commentator Errol Louis, shared a picture of the CNN crew partying it up with accused woman beater Michael Avenatti a few months ago -- the picture was later deleted and her profile was set to private:





In just the past few months, Avenatti:

- Had his frame-up against Judge Kavanaugh blow up in his face
- Had his client Stormy Daniels ordered to pay Trump's legal fees in a failed defamation case
- Was ordered to pay $4.85 million to a former associate in back pay
- Was evicted from his law office in California
- Was referred twice to the DOJ for criminal investigation

For Avenatti, the hits just keep on coming -- which I think is also what his alleged victim said!

Follow InformationLiberation on Twitter, Facebook, Gab and Minds.