David Brooks & Bill Kristol Agree: Demographics Are Destiny
Chris Menahan
InformationLiberation
Nov. 09, 2018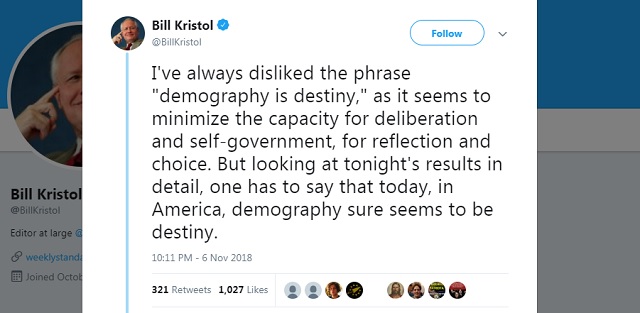 David Brooks writes in his latest column at The New York Times:

Here's the central challenge of our age: Over the next few decades, America will become a majority-minority country. It is hard to think of other major nations, down through history, that have managed such a transition and still held together.

It seems that the Democratic Party is going to lead us through this transition. The Republicans have decided to pretend it's not happening.
One of those "Republicans" who has pretended it's not happening is neoconservative Bill Kristol, who seemed to stop pretending on Wednesday after the midterm results came out:



"Good point, Bill. If only somebody with your foresight had been in positions of power and influence within the GOP since the 1980s," columnist Steve Sailer responded.

Follow InformationLiberation on Twitter, Facebook, Gab and Minds.