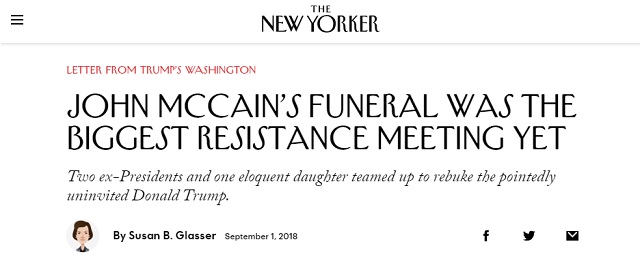 Say hello to your "resistance" leaders: Joe Lieberman, Dick Cheney, Jeff Bezos, Michael Bloomberg, Mitt Romney, Henry Kissinger, Bill Browder and more!

From The New Yorker, "John McCain's Funeral Was the Biggest Resistance Meeting Yet":

Donald Trump's name was never mentioned. It didn't have to be. The funeral service for John Sidney McCain III, at the Washington National Cathedral, on this swampy Saturday morning, was all about a rebuke to the pointedly uninvited current President of the United States, which was exactly how McCain had planned it.

Of course, there were fulsome tributes to Senator McCain's bravery and courage and public service, stark reminders of the torture he endured as a prisoner of war, and of the policies he fought for (and against) in his many decades as a Republican politician from Arizona. But McCain knew that would not be the headline from the grand service, whose many details he personally oversaw. This was to be no mere laying to rest of a Washington wise man, nor just another funeral of an elder statesman whose passing would be marked by flowery words about the end of an era. It was a meeting of the Resistance, under vaulted ceilings and stained-glass windows.

[..]McCain's grand funeral--the Obama adviser David Axelrod called it an exercise in "civic communion"--underscored a fact that is often lost about Washington these days. The city is much more bipartisan, in some respects, than it has ever been, more united than it may currently seem, in its hatred of Donald Trump.

Some are more forthright about this than others, for understandable reasons. Others are circumspect, especially the elected Republican officials who have now publicly bowed to Trump after trying and failing to stop his ascendance in their party. But their presence at McCain's funeral suggested that the final chapter has not yet been written in the Republican drama over what to do about the crude interloper who has taken over their party. McCain certainly died hoping for something other than the current, slavish devotion to Trump that many Republicans on Capitol Hill now profess, and that is what his funeral was meant to remind us. Watching John Boehner and Elizabeth Warren, David Petraeus and Leon Panetta, Al Gore and Madeleine Albright and Paul Ryan glad-hand in the pre-noon hours of September 1st, there was no doubt of what their presence there, together, was meant to convey.
It's truly hilarious that anyone could think they're fighting the establishment by "resisting" Donald Trump.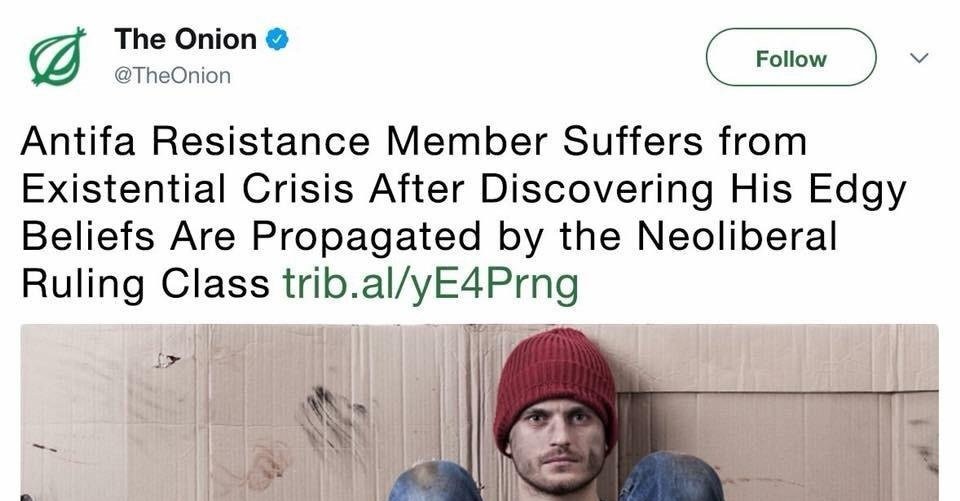 Here's a meme making the rounds showing some of the power players in attendance: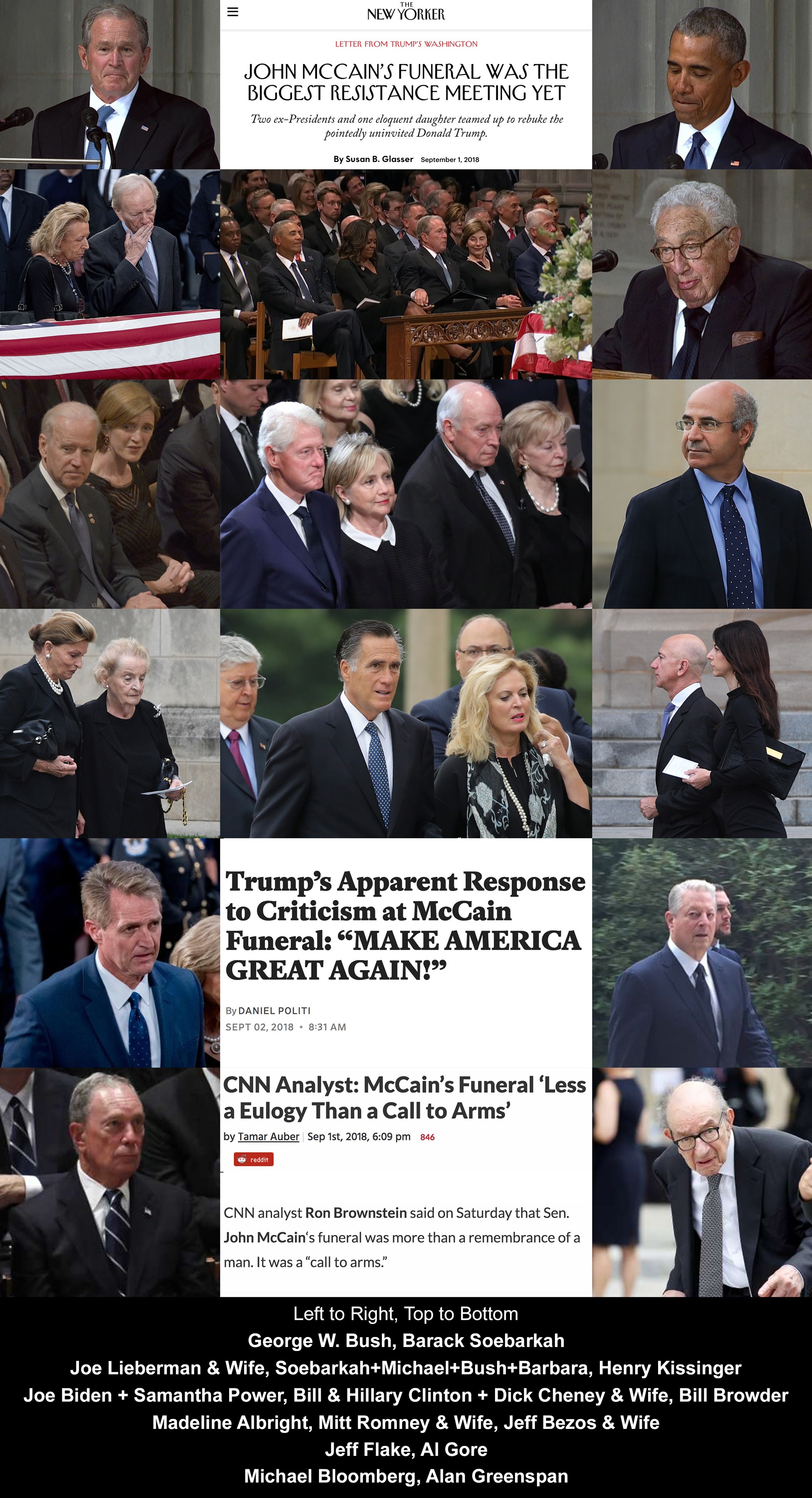 This is your "resistance."

Follow InformationLiberation on Twitter, Facebook, Gab and Minds.