Retraction: 'Ravenchamps' Reddit Account Does Not Belong to Jacksonville Shooter David Katz
Chris Menahan
InformationLiberation
Aug. 28, 2018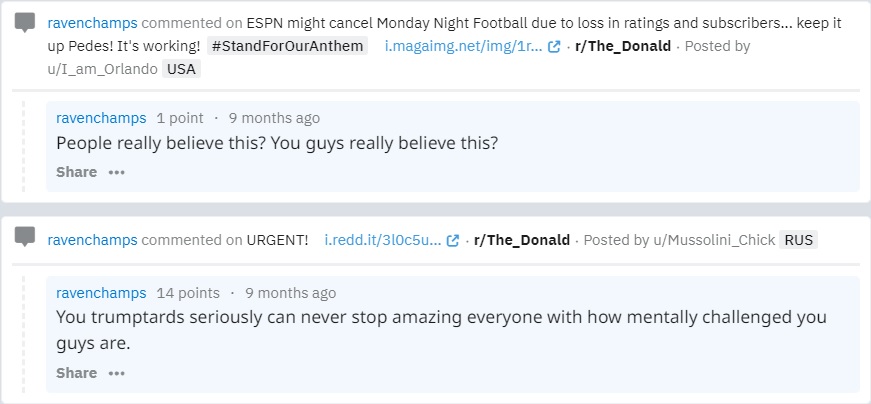 The Reddit account Ravenchamps, which I wrote two articles about, was not owned by David Katz but instead "the real owner of the account was a Minnesota native named Pavel," NBC News reports.

From NBC News, "Far-right media misidentifies Jacksonville shooter as Trump-bashing Reddit user":

A day after a competitive video gamer shot and killed two people, wounding 10 others, at a Madden video game tournament in Jacksonville, Florida, a group of far-right news outlets announced that they had found the Reddit account used by the shooter, who they said used the pseudonym "Ravenchamps."

But the groups were wrong.

"Ravenchamps" did not belong to the shooter, who the police say was a Baltimore resident named David Katz and who killed himself in the shooting. And the announcement caused considerable trouble for the real person who owned the account.

The fringe sites Infowars and Gateway Pundit, plus far-right commentator Mike Cernovich and reporter Ian Miles Cheong, claimed that "Ravenchamps" — similar to Katz's frequent video game username "Ravens2012champs" — was operated by the alleged shooter before his death. They pointed to the account's rhetoric that repeatedly slammed the president, along with other political figures, pointing out a comment where Ravenchamps called users "Trumptards."

But the real owner of the account was a Minnesota native named Pavel, who returned to Reddit on Monday to see dozens of people claiming he was dead.

"I went on Reddit. I noticed I had 60, 70 unread messages. Usually I have two or something," Pavel, who didn't give his last name out of privacy concerns, told NBC News on Monday night. "I look at the messages and it's a bunch of people using my username claiming I'm that Madden shooter person. Half of them are messages like 'I hope that person's dead.'

Responding to a user who said "ravenchamps was his profile, see for yourself," Ravenchamps wrote back.

"I'm alive you know?" he wrote.

Pavel then went to Reddit's AskMeAnything board to answer questions about everything from his favorite TV show to what it was like to have all of his old opinions shared across the web as a possible motive of a mass shooting.

"Confused at first, now I'm just laughing about it," he wrote.
I've retracted/corrected both reports which contain the error and sincerely apologize for the mistake.

Follow InformationLiberation on Twitter, Facebook, Gab and Minds.