Pope Lectured Trump On Family Separation, But Silent On Priest Child Molestation Report
Chris Menahan
InformationLiberation
Aug. 16, 2018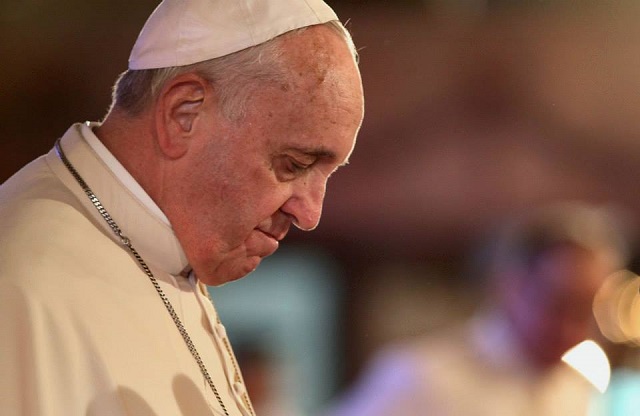 Just last month, Pope Francis lectured President Donald Trump for separating children from their criminal parents (and random child-abusing drug smugglers posing as their "parents") caught illegally entering America at the border.

From CNN on June 20, "Pope criticizes Trump administration over migrant family separations":

Pope Francis has added his voice to those criticizing the Trump administration's "zero tolerance" policy that has resulted in the separation of families at the Mexican border.

In a wide-ranging interview with Reuters at his Vatican residence published on Wednesday, World Refugee Day, Francis said he supported the statements made by US Catholic bishops who called the separation of children from their parents "immoral" and "contrary to our Catholic values."

"I am on the side of the Bishops' Conference," Francis told Reuters, referring to those statements. "It's not easy, but populism is not the solution," he added.
There was no mention of the fact the U.S. Conference of Catholic Bishops received $176 million in federal contracts for refugee resettlement in 2015 and 2016 alone.

Pope Francis had nothing to say about the allegations some 300 "predator priests" sexually abused more than 1,000 children in Pennsylvania since 1947.

From CNN, "Why is the Pope still silent about damning sex abuse report?":

In July, Pennsylvania Attorney General Josh Shapiro wrote a personal letter to Pope Francis, warning him that "a comprehensive investigation" by his office had found "widespread sexual abuse of children and a systemic coverup by leaders of the Catholic Church."

Shapiro says he never received a response.

The six Pennsylvania dioceses named in the scathing grand jury report received copies of the 800-page document in May, according to Crux News. [...]

"We have no comment at this time," Paloma Ovejero, deputy director of the Vatican's press office, said on Wednesday. On Thursday, the Vatican again declined to comment.
Perhaps the Pope could work on getting his own house in order before casting stones?

Follow InformationLiberation on Twitter, Facebook, Gab and Minds.