Statue Of Liberty Climber: "America, You Motherf***ers! You Drug Addicts! You KKK!"
Chris Menahan
InformationLiberation
Aug. 04, 2018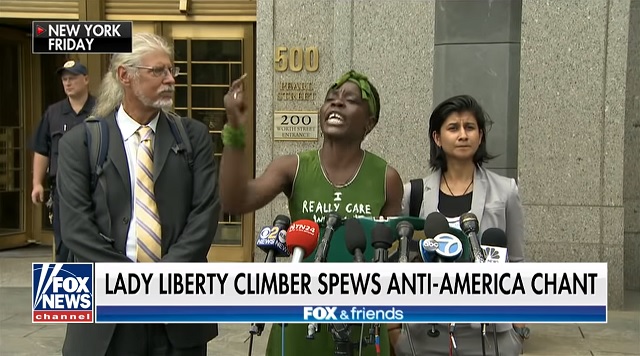 The Congolese immigrant hailed as a hero by the left for climbing the Statue of Liberty on July 4th revealed a "song" she created cursing America outside Manhattan federal court on Friday.

From Fox News:

Therese Okoumou is facing numerous charges, including trespassing, interference with government agency functions and disorderly conduct for scaling the icon of freedom, according to the New York Post.

However, she appeared outside Manhattan federal court Friday wearing a dress that said, "I really care, why won't u?" before beginning what she called her "song."

"America, you motherf--kers! You drug addicts! You KKK! You fascist USA," she shouted to her supporters.

...The Post reported that Okoumou is facing a year and a half in prison.
This is the new face of the Democratic Party.



Follow InformationLiberation on Twitter, Facebook and Gab.