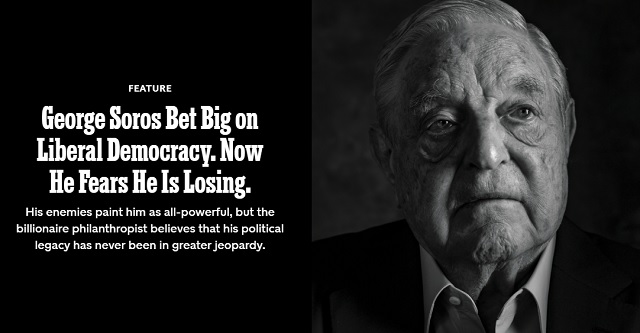 What a tragedy!

From The New York Times Magazine, "George Soros Bet Big on Liberal Democracy. Now He Fears He Is Losing.":

In London in the 1950s, Soros was a student of the expatriated Austrian philosopher Karl Popper, who championed the notion of an "open society," in which individual liberty, pluralism and free inquiry prevailed. Popper's concept became Soros's cause.

It is an embattled cause these days. Under Vladimir Putin, Russia has reverted to autocracy, and Poland and Hungary are moving in the same direction. With the rise of Donald Trump in the United States, where Soros is a major donor to Democratic candidates and progressive groups, and the growing strength of right-wing populist parties in Western Europe, Soros's vision of liberal democracy is under threat in its longtime strongholds. Nationalism and tribalism are resurgent, barriers are being raised and borders reinforced and Soros is confronting the possibility that the goal to which he has devoted most of his wealth and the last chapter of his life will end in failure. Not only that: He also finds himself in the unsettling position of being the designated villain of this anti-globalization backlash, his Judaism and career in finance rendering him a made-to-order phantasm for reactionaries worldwide. "I'm standing for principles whether I win or lose," Soros told me this spring. But, he went on, "unfortunately, I'm losing too much in too many places right now."

With Putinism and Orbanism on the rise and the 30th anniversary of the fall of the Berlin Wall approaching, there is renewed debate about the import of the events of 1989 and whether Russians, Poles and Hungarians really intended to embrace the full menu of Western liberal values. Francis Fukuyama is among those who have doubts today. "There's now a lot of evidence that a lot of that turn toward liberal democracy in the early days, after the fall of the Berlin Wall, really was driven by a kind of educated, very pro-Western elite," he told me recently. But less-educated people who lived outside large urban areas "didn't really buy into liberalism, this idea that you could actually have a multiracial, multiethnic society where all these traditional communal values would have to give way to gay marriage and immigrants and all this stuff. That they definitely did not buy into."

In his annual state-of-the-world speech in Davos this year, Soros said Trump "would like to establish a mafia state, but he can't, because the Constitution, other institutions and a vibrant civil society won't allow it." He also characterized Trump as a "purely temporary phenomenon that will disappear in 2020, or even sooner," and predicted a Democratic landslide in the 2018 midterm elections. Five months on, he was sticking by those predictions. "For every Trump follower who follows Trump through thick and thin, there is more than one Trump enemy who will be more intent, more determined," Soros told me. He is doing his part to shorten the Trump era: In advance of the midterm elections, Soros has so far contributed at least $15 million to support Democratic candidates and causes.
His 32-year-old son Alex Soros dropped this gem:

[...]Alex told me that for many years, his father had not been eager to advertise his Judaism because "this was something he was almost killed for." But he had always "identified firstly as a Jew," and his philanthropy was ultimately an expression of his Jewish identity, in that he felt a solidarity with other minority groups and also because he recognized that a Jew could only truly be safe in a world in which all minorities were protected. Explaining his father's motives, he said, "The reason you fight for an open society is because that's the only society that you can live in, as a Jew — unless you become a nationalist and only fight for your own rights in your own state."
Follow InformationLiberation on Twitter, Facebook and Gab.