Georgia: Newly Elected Rapper Takes Oath Of Office On Malcolm X Autobiography
Chris Menahan
InformationLiberation
Jun. 08, 2018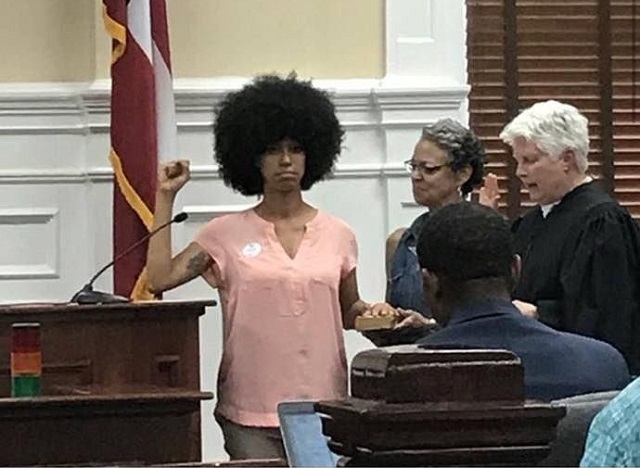 This is your modern Democratic Party, ladies and gentlemen.

From The Hill:

A 26-year-old doctoral student elected to be Athens-Clarke County Commissioner took her oath of office Monday holding her hand not to the bible, but rather a copy of "The Autobiography of Malcolm X."

According to The Atlanta Journal-Constituion, Mariah Parker, who won the seat by 13 votes, ran as a progressive, declaring on her campaign website that "it's time for bold, progressive leadership in Athens."
"They asked if they would like the Bible and I said no. My mother asked if there was a copy of the Constitution around. No," Parker, who studied linguistics and is a rapper who goes by the name Lingua Franca, told the newspaper. "I wanted Malcolm's book. I think they saw it coming."

Photos of Parker being sworn in have been making the rounds on social media.


"Having seen the transformation of someone who came through a difficult background to become vocal and push conversations on race in a radical way is powerful," Parker said. "Then he shifted course and saw race in a different lens as he got older. And the fact that he was arguably killed for his politics. These are things that I want to embrace."
Here she is rapping about doing large amounts of drugs and getting abortions in her song "Eight Weeks":



While Georgia had been solidly Republican for several decades that's changed in recent years due to massive demographic shifts.

Follow InformationLiberation on Twitter, Facebook and Gab.