Trump Halts Neocon Nikki Haley's Promised Russian Sanctions
Chris Menahan
InformationLiberation
Apr. 17, 2018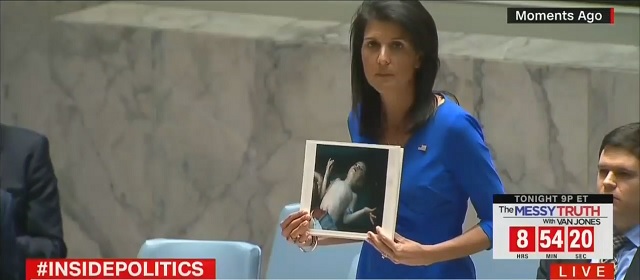 With every passing day it appears to be more likely Donald Trump is effectively being held hostage by the deep state.

Nimrata "Nikki" Randhawa on Sunday said the US was going to roll out new sanctions on Russia in retaliation for (being framed for) an alleged gas attack in Syria (for which we're not allowed to see the evidence). It appears she didn't bother to take the time to ask the president his opinion on the matter.

From The Washington Post:

President Trump on Monday put the brakes on a preliminary plan to impose additional economic sanctions on Russia, walking back a Sunday announcement by U.S. Ambassador to the United Nations Nikki Haley that the Kremlin had swiftly denounced as "international economic raiding."

Preparations to punish Russia anew for its support of Syrian President Bashar al-Assad's government over an alleged chemical weapons attack in Syria caused consternation at the White House. Haley had said on CBS News's "Face the Nation" that sanctions on Russian companies behind the equipment related to Assad's alleged chemical weapons attack would be announced Monday by Treasury Secretary Steven Mnuchin.

But Trump conferred with his national security advisers later Sunday and told them he was upset the sanctions were being officially rolled out because he was not yet comfortable executing them, according to several people familiar with the plan.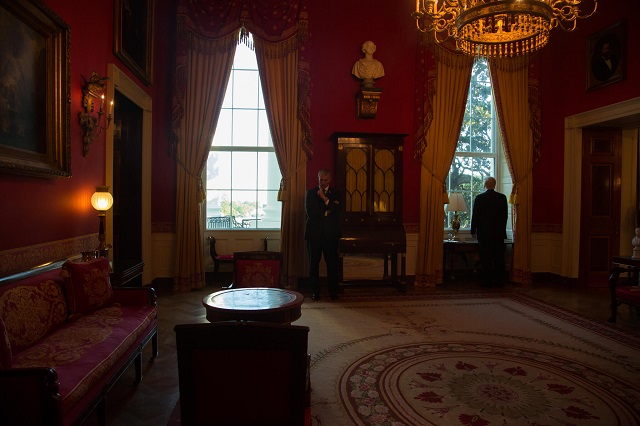 Administration officials said the economic sanctions were under serious consideration, along with other measures that could be taken against Russia, but said Trump had not given final authorization to implement them. Administration officials said Monday it was unlikely Trump would approve any additional sanctions without another triggering event by Russia, describing the strategy as being in a holding pattern.

Sometime after Haley's comments on CBS, the Trump administration notified the Russian Embassy in Washington that the sanctions were not in fact coming, a Russian Foreign Ministry official said Monday.

The Trump team decided to publicly characterize Haley's announcement as a misstatement. White House press secretary Sarah Huckabee Sanders said in a statement Monday: "We are considering additional sanctions on Russia and a decision will be made in the near future."
Note, it also came out on Monday that Trump took the "most restrained" attack on Syria which was presented to him by the Pentagon, the most insane of which was a direct strike on Russia's anti-air defense systems.

From Fox News:

The Wall Street Journal, citing unnamed sources, reported that Trump was presented with a wide array of options. There were intense discussions on the best approach after Defense Secretary Jim Mattis presented the three military options, the report said.

Trump chose a restrained response. The paper reported that the most expansive proposal included airstrikes on Russian air defense capabilities in Syria. The attack would have been three times the size of the operation carried out—which included 100 advanced missiles launched at three targets.

Trump reportedly wanted his team to consider the strikes on Iranian and Russian targets, but Mattis resisted. Mattis reportedly warned of a possible Russian and Iranian response.

Russia has military forces, including air defenses, in several areas of Syria to support President Bashar Assad in his long war against anti-government rebels.
I find it hard to believe Trump was pushing for the strike on Russia considering he chose the "restrained" response and now is halting the additional sanctions (as he's done repeatedly in the past only be overruled by the criminals in congress). Even though neocon John Bolton is now Trump's National Security Advisor, Trump initially picked Michael Flynn, who I don't think for a second would have went along with this Russophobic, neocon lunacy. The deep state took Flynn out overnight.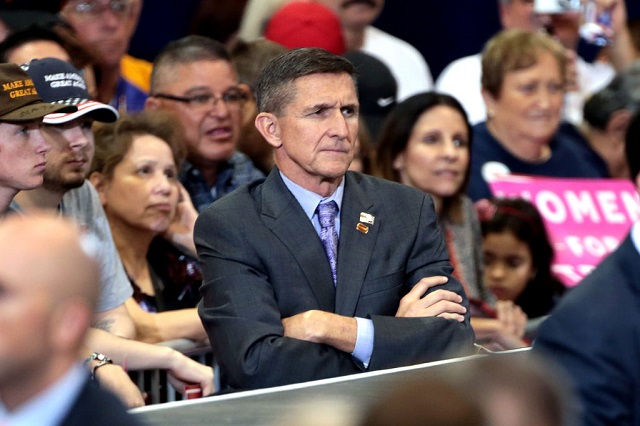 I think Trump's feeling the pressure from the deep state now that his lawyer's private attorney-client communications were all seized so they could be leaked directly to the Wall Street Journal to destroy him.



Trump needs to go nuclear on the deep state by starting to declassify all the evidence of their crimes. Release all the files on JFK, Fast and Furious, September 11th, the CIA-led coup in Iran, etc. If they're going to take him down, he should take them down with him. Unfortunately, it seems like they've got something on him as he's increasingly unwilling to fight.

Follow InformationLiberation on Twitter, Facebook and Gab.