Illegal Immigration Advocate Tells Tucker 'Caravan' Is Punishment For America's Foreign Policy 'Sins'
Chris Menahan
InformationLiberation
Apr. 02, 2018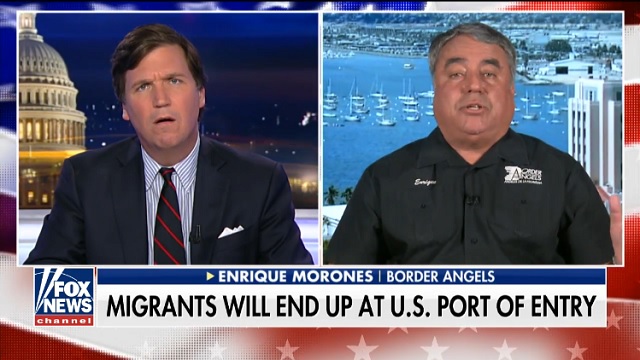 Illegal immigration advocate Enrique Morones of Border Angels told Tucker Carlson in a heated interview Monday night on Fox News that the "caravan" of some 1,500 Latin American migrants headed to the US is a form of punishment for America's interventionist "sins."

The group Pueblo Sin Fronteras, which organized the invasion, said they're being aided by Mexican authorities.

From Fox News:

Morones said the United States is too often a "hostile nation" and pointed to what he called "intervention" in other nations' affairs.

Morones said President Ronald Reagan interfered in Central America during the Iran-Contra affair and that more recently America is seeking to interfere in Mideast affairs.

Carlson said Morones was in effect defending the government of Mexico, which tacitly decided to "abet" illegal immigration into the United States by failing to stop the caravan.
Morones accused Carlson of "lying" and asked for a document to prove Mexico is actively helping Hondurans flee into the United States.

Carlson summarized that Morones was legitimizing illegal immigration by saying America's "sins" mean that we are on the hook for any troubled society's ills, and the forces that make people flee them for our land.

"You hate America is what you're saying," he said.

Morones responded by saying that President Donald Trump is "an embarrassment to the world" and added that America takes more of foreign countries' natural resources than they should.
Morones made similar comments last year on Tucker's show.

"US policy is what drives a lot of these people out [of Mexico and Central America]," Morones said. "The intervention in Central America, the demand [for] drugs by the American public, the intervention in the Middle East by President Bush -- those things cause people to leave."

"There's a consequence to those actions," he said. "If you're going to get involved in other people's policies, you gotta pay the price."

It sure is nice of Mr. Morones to admit this isn't about "enriching our culture" but instead punishing us for our "sins."

Earlier in the show, Tucker said the caravan, which is being aided by Mexican authorities, amounts to an "invasion."

"These aren't refugees," Tucker said. "They're border jumpers."



This is an act of war on Mexico's part and a scene straight out of the anti-immigration novel The Camp of the Saints.

[Update: Mark Steyn made the same comparison.]



This an illegal invasion and it should be repelled by any means necessary.


Follow InformationLiberation on Twitter, Facebook and Gab.