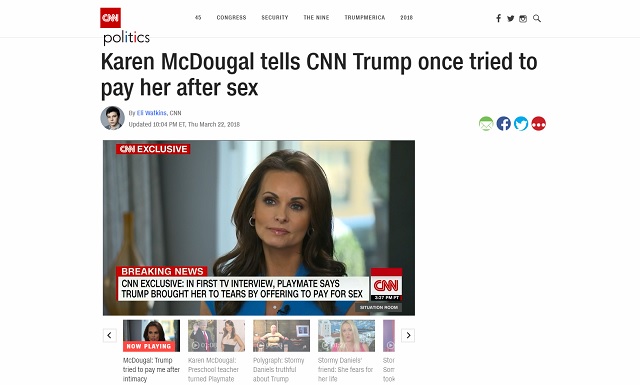 "What they mean is that they want more money, much more, these are the most expensive whores what can be got." - William Burroughs, Words Of Advice For Young People (1993).

From NPR:

In an interview with CNN's Anderson Cooper Thursday evening, Karen McDougal said Trump tried to pay her after the first time they had sexual relations.

"After we had been intimate, he tried to pay me, and I actually didn't know how to take that," she said, clasping her hands together.


She recalled how the cash offer left her shaken while Trump appeared surprised by her reaction. "The look on my face must have been so sad," she said. She wondered, "Does he think I'm in this for money? That's not me."

"I'm not that kind of girl," she said she told him.

His response: "You're really special."
Truly one of a kind!

McDougal's motive? Trump couldn't make her a successful fitness model in her late 30s (one of the most cutthroat and competitive industries in the world) and she "fears financial ruin":

Shortly after Trump won the Republican nomination, the model turned aspiring journalist promised to keep quiet about the supposed romance with Trump in exchange for $150,000 and a deal to write articles for some of the company's magazines and appear on at least two covers.

She explained to Cooper that she was happy to take the hush money. In fact, she said she was relieved that the story of the illicit affair would be buried and also thrilled about the opportunity to re-brand herself from former Playmate to lifestyle and fitness model.

She said AMI and its owner David Pecker in particular, framed the deal as a means to "jumpstart" her career and protect her image as "wholesome and pure."

At the time, she thought, "It's a win-win for me. I get the work and my story doesn't have to come out."

Additionally, she felt a deep sense of loyalty to Trump both as a former lover but also as a Republican.

"I voted for the president. That's my party. That's my president!" she said.
...Whom she's now doing everything in her power to take down for cash.
But things didn't pan out the way she had anticipated. The company and Pecker, who is a long-time friend of Trump's, failed to hold up their end of the bargain, according to McDougal. And now she wants out of the contract.

"I almost feel violated. I feel taken advantage of," she told Cooper. "I feel like the contract was illegal, I was lied to and I want to share my truth."

"I want my life rights back," she demanded.

As NPR reported, AMI denies the accusations and in a statement issued Tuesday, the company said, "McDougal has been free to respond to press inquiries about her relationship with President Trump since 2016" adding that "the suggestion that AMI 'silenced' her is completely without merit."

Still, McDougal said she fears financial ruin and hopes a legal judgment in her favor will release her from the deal with AMI. She has even offered to pay back the money she took.
Here's the cherry on top:

She also offered an apology to Melania. "I'm sorry," she said choking back tears. "I wouldn't want it done to me."

"I know it's a wrong thing to do but in those days I was a different girl. I had fun. I was in the Playboy scene," she explained.

In the years since her entanglement with Trump, she has returned to her roots and faith. "I'm going to church. I'm involved in ministry," she said.
*Breaths in*

Hahahahahahahahahahahahaha!

She should have tried comedy!

As you watch the clips above, never forget the media covered up JFK's philandering (which allegedly included taking the virginity of a teenage girl in his wife's White House bed) and did everything in their power to excuse Bill Clinton's "relations" with Monica Lewinsky and the dozens of other women who claim he sexually abused them.

Follow InformationLiberation on Twitter, Facebook and Gab.