Elizabeth Warren Dodges On Taking DNA Test: 'I Know Who I Am'
Chris Menahan
InformationLiberation
Mar. 12, 2018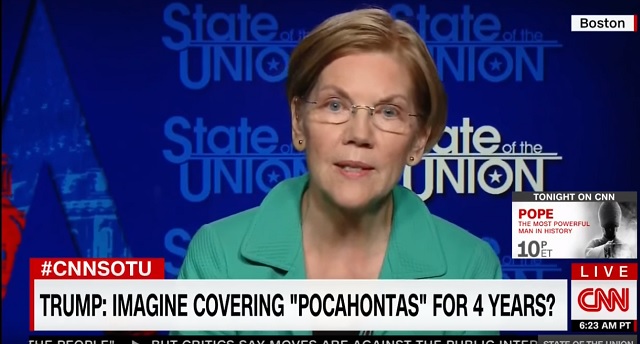 Sunday on Fox News, Senator Elizabeth Warren (D-MA) refused to say whether she'd take a DNA to prove her supposed Native American heritage.

From the Free Beacon:

"Would you be willing to take a DNA test to put this issue to rest?" [John] Roberts asked.
Warren didn't answer on that front. Instead, she responded by telling the story of her parents, who she said met as teenagers in Oklahoma. Her father's family, Warren said, was opposed to his marrying Warren's mother because she was part Native American, and the couple went on to make it through "hard times" and raise her and her three brothers.

"I know who I am because of what my mother and my father told me, what my grandmother and my grandfather told me, what all my aunts and uncles told me and my brothers. It's a part of who I am, and no one's ever going to take that away," Warren said.
She gave the exact same canned response on Meet the Press, though Chuck Todd at least challenged her, asking "what's wrong with knowing" for sure whether she's actually got any Native American DNA:



"Look, I do know," Warren said. "I know who I am and never used it for anything. Never got any benefit from it anywhere."

Warren also repeated the exact same story on CNN and suggested Trump calling her Pocahontas is a "racial slur."



Follow InformationLiberation on Twitter, Facebook and Gab.