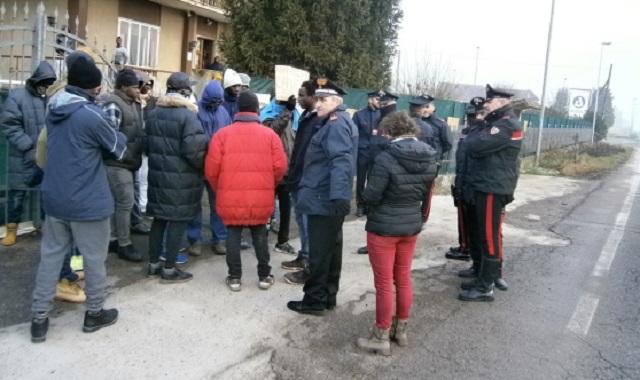 "They explained that they wanted to watch football matches on Sky TV..."

From Gazzetta Di Mantova as translated by Diversity Macht Frei:

At around 6.30 am on 8 February a group of about twenty asylum seekers staged a protest outside the asylum centre where they lived in Cas di Roncolevŕ, a few kilometres from Castelbelforte. One of them held up a sign saying "We don't want Anastasia" (the manager of the asylum centre). They also used objects that were lying around to block access to the asylum compound, preventing a female worker from entering. When an employee of the electrical company tried to enter, they manhandled him.

Finally, the carabinieri arrived and asked what the problem was. They explained that they wanted to watch football matches on Sky TV, a cable service that apparently wasn't provided in the institution. They also made some complaints about the food.

Most of the protesters went back in at around 11, only a few remaining outside.

Islao Petrarca., director of the Versoprobo cooperative which manages the asylum centre, said: "We provide what we need to provide; in some cases also more. But nothing superfluous. We have no intention of satisfying childish requests."
This is truly shameful -- on the part of the Italians.

These poor refugees were fleeing from the bad service provided by C Tier cable providers in their home countries -- and now they need to suffer doubly by not getting Sky TV?

Access to Sky TV is basic human right you fascists!

Follow InformationLiberation on Twitter, Facebook and Gab.