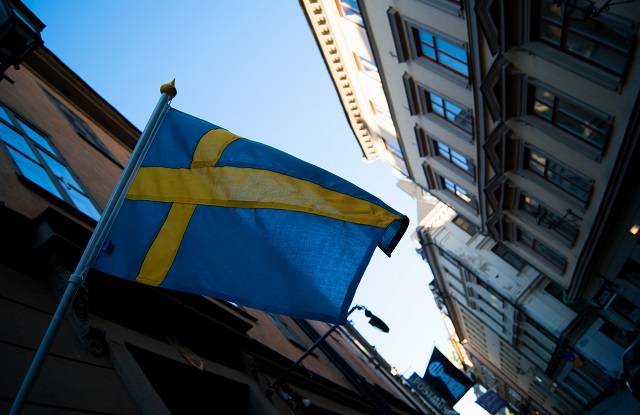 A 55-year-old Swedish man was put on trial and fined $1,265 for committing a "crime of opinion" by writing on Facebook that Sunni Muslims "account for a lot of gang crime in Sweden and other violent stuff like rapes," Fria Tider reports.

From Sputnik News:

During the trial, the man claimed to be a believer in the freedom of speech both in Sweden and on Facebook, the Fria Tider news outlet reported.

The 55-year-old man from the Swedish town of Jönköping has been handed a SEK 10,000 ($1,265) fine for crime of opinion after writing on Facebook that Sunni Muslims account for a lot of the gang-related crimes and rapes committed in Sweden.

Prosecutor Lisa Hedberg chose to take legal action against the man after his post on the Facebook group "Now is enough! I want re-election now!" in April 2017. The public group has close to 13,000 members and is opposed to the actions of Sweden's incumbent "red-green" government.

According to Fria Tider, the man's own wording went as follows:

"Somalis are Sunni Muslim, they have the same orientation as Saudi Arabia, with sharia law & other s*it… They account for a lot of gang crime in Sweden and other violent stuff like rapes. Afghans are also up to 80 percent Sunni, the damn pack."

Hedberg concluded that the man expressed himself in a "criminally derogatory" manner regarding Muslims, Somalis and Afghans, based on creed, national or ethnic origin.
Of course, if imported foreigners say "all Swedes are racists" or feminists say "all Swedish men are rapists" that's just fine.
During the trial, the defendant stated that he believed in the idea that freedom of speech existed in Sweden and on Facebook.

"You see it every day, things like gang rapes, shootings, animal cruelty and the like, and politicians do not seem to be able to do anything about it. The police also do nothing, and people get angry," he was quoted as saying by the Fria Tider.
They are doing something about it -- they're tracking down and arresting people who oppose it.
The man also claimed Muslims account for at least 80 percent of rape and other sexual crimes in Sweden.

"I wrote this as a regular citizen, not as a politician or activist. I see that this can be perceived as controversial if one is politically correct," he continued.

Nevertheless, the Jönköping District Court was inexorable, as judge Lisa Vilander found that the post was formulated in an abusive way and instead of inviting a discussion on matters of religion voiced hate against a group of people.

Although the taboo on disclosing criminals' ethnicity remains in force in Sweden, a private survey from October 2017 revealed immigrants' drastic overrepresentation in sexual assaults, with men of foreign descent allegedly committing over 90 percent of rapes. The 80-page investigation involved over 4,000 rulings from 40 Swedish courts between 2012 and 2014, that is before the recent migrant crisis, during which over 200,000 asylum seekers from predominantly Muslim countries entered Sweden.

In stark contrast to the "world's first" feminist government's ambition to create a truly gender-equal society, Sweden has seen a dramatic upsurge in rapes and sexual assault, with the spike reaching a mind-boggling 400 percent in parts of the country, compared with the pre-2000s.
The liberal order as it stands in the West is a facade entirely dependent on censorship. They can't actually debate crime stats, so they just make it illegal to discuss them.

Sweden's "most experienced police investigator," 47-year veteran officer Peter Springare made headlines last year after he hit his breaking point and said migrants are responsible for almost all crime in his country.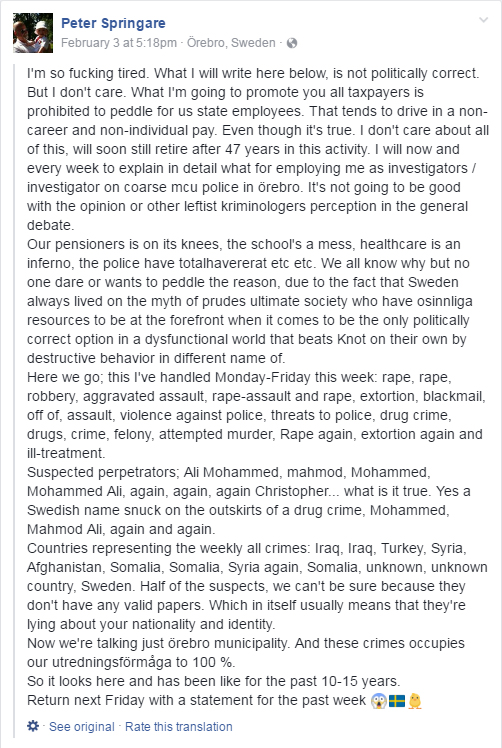 He was threatened with prosecution but had so much popular support that the state was forced to back down.

Follow InformationLiberation on Twitter, Facebook and Gab.