'Whites Must Run!': EFF Rioters In South Africa Attack White Parent Outside School
Chris Menahan
InformationLiberation
Jan. 17, 2018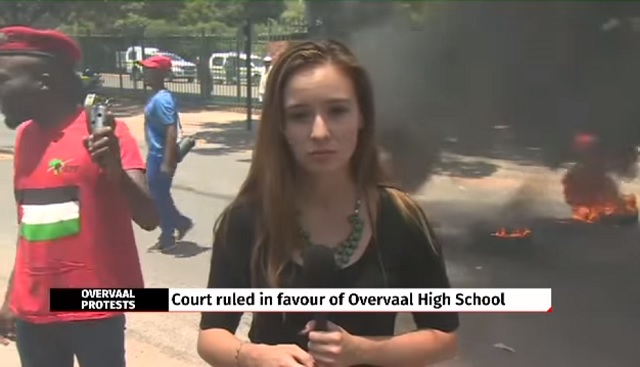 Hot on the heels of destroying a host of H&M stores in South Africa over a "racist" sweatshirt, EFF goons rioted outside a school and attacked a white parent after their kids were denied access to the school by a high court.

Video from the scene shows EFF members screaming in a small reporter's face and angrily shouting "whites must run!"



From ANN7:

Tensions broke at the Hoërskool Overvaal in Vereeniging where members of the EFF and parents of the 55 learners who were refused admission at the school staged a protest outside the school.

The police had to intervene as tensions between white parents and EFF protesters spill over. In a video, a white parent could be seen kicked by one of the protesters outside the school.


The picket by members of the EFF and parents of the 55 learners comes after the High Court' ruling which went against the Gauteng Education Department's instruction to the school to force it to take in more learners.

...In an judgment this week the GDE lost its case to open the school to the pupils. It intends to appeal the judgment.
Don't let anyone tell you South Africa is becoming a s--thole.

UPDATE: The rioters were also filmed chanting "white man you must die" and "shoot to kill the boer," meaning white South Africans.



Follow InformationLiberation on Twitter, Facebook and Gab.