CNN's Lemon Can't Contain His Laughter After Hearing 55% Of Whites Say Whites Face Discrimination
Chris Menahan
InformationLiberation
Oct. 26, 2017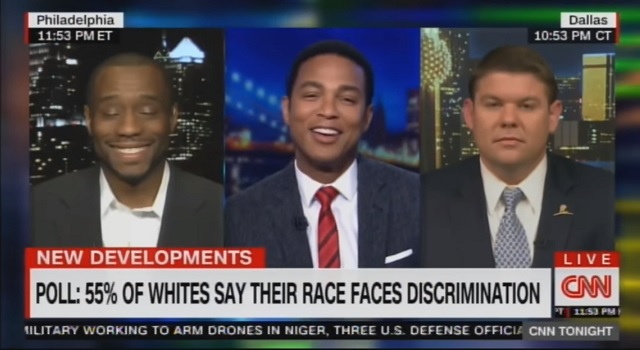 CNN's Don Lemon was unable to contain his laughter on Wednesday while reporting on a new poll which found 55 percent of whites in America believe whites face discrimination.

"A new poll shows that the majority of white Americans believe there's discrimination against their race," Lemon said while introducing a new segment with Marc Lamont Hill and Ben Ferguson.

Hill responded by shaking his head and smiling, at which point Lemon burst out laughing.

"Mark, don't start," Lemon said. "I've gotta go on, let me tell people about the poll first!"

"White people are amazing," Hill responded.



Hill said white people are not being systemically discriminated against, rather they've just begun getting a taste of "equality."

"When white people don't have complete power and control over a situation, they read their situation as somehow an oppressive situation," Hill said. "I don't doubt that 55 percent of white people feel discriminated against, I'm saying there's something wildly irrational about 55 percent of white people in America thinking that they are being discriminated against because they are white, that is simply untrue and there's no data for it."

Ferguson responded: "Is it wildly irrational that 94 percent of African Americans think they're discriminate against when in reality it's not even close to that in America?"

Hill and Lemon started stammering in response and were unable to form a coherent answer.

Contrary to brilliant legal scholar Marc Lamont Hill's proclamations, white people are systemically discriminated against through affirmative action programs at colleges and in the workplace, as well as through loans and government contracts given only to minority-owned businesses.

Follow InformationLiberation on Twitter, Facebook and Gab.