Marc Faber Resigns After Saying 'Thank God White People Populated America'
Chris Menahan
InformationLiberation
Oct. 17, 2017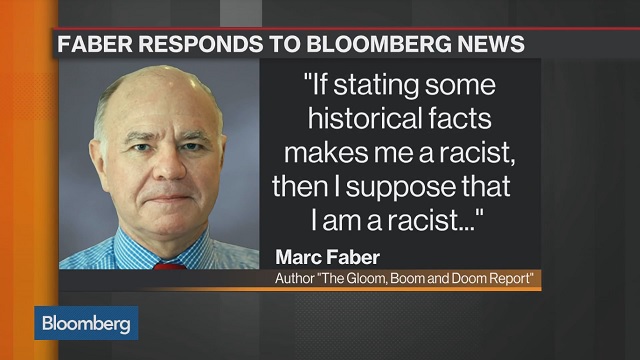 Famed Swiss investor Marc Faber was booted off the board of Sprott on Tuesday for saying America is better off because it was settled by whites and not blacks.

"The recent comments by Dr. Faber are deeply disappointing and are completely contradictory with the views of Sprott and its employees," said Peter Grosskopf, CEO of Sprott. "We pride ourselves on being a diverse organization and comments of this sort will not be tolerated. We are committed to providing an inclusive workplace for all of our employees and we extend the same respect to our clients and investors."

From The Daily Caller:

Faber made a series of racially charged remarks in his 15-page newsletter The Gloom, Boom & Doom Report for October. Faber defended Confederate statues, arguing against taking them down because the men they honored were only trying to defend slavery. Faber also said that it was good that white people, instead of black people, settled in America.

"And thank God white people populated America and not the blacks. Otherwise, the US would look like Zimbabwe, which it might look like one day anyway, but at least America enjoyed 200 years in the economic and political sun under a white majority. I am not a racist, but the reality — no matter how politically incorrect — needs to be spelled out as well. (And let's not forget that the African tribal heads were more than happy to sell their own slaves to white, black and Arab slave dealers.)," Faber wrote in the newsletter.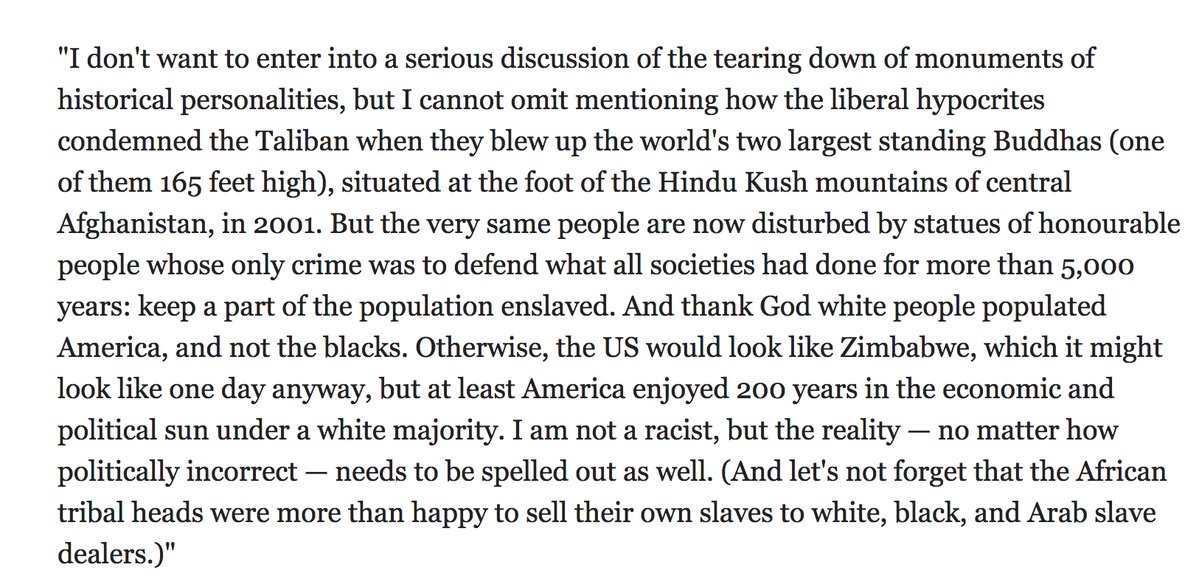 Faber defended his comments, saying that he was only stating facts on the matter.

"If stating some historical facts makes me a racist, then I suppose that I am a racist. For years, Japanese were condemned because they denied the Nanking massacre," Faber said.
Faber is also being banned from television, as Business Insider reports:

"We do not intend to book him in the future," a CNBC representative told Business Insider on Tuesday.

"Faber does not appear on the network often and will not be on in the future," a representative for Fox Business Network said.

A person familiar with the situation at Bloomberg TV gave a similar statement, noting that the network had not booked Faber since June 2016.

"He hasn't appeared on Bloomberg TV since last summer, and there are no plans to book Mr. Faber," the person said.

In an email to Business Insider, Faber said the networks' decision wasn't consequential to him.

"Not sure this is a huge loss," Faber said.
Paul Krugman reacted to the news with glee, saying Faber came out as a "pro-slavery (!) white supremacist."


Krugman did not explain how pointing out the fact African tribal leaders sold slaves to Americans and others makes one "pro-slavery."

Follow InformationLiberation on Twitter, Facebook and Gab.