Rush: Mueller Probe 'Most Massive Opposition Research Operation Ever Conducted' in America
Chris Menahan
InformationLiberation
Jul. 20, 2017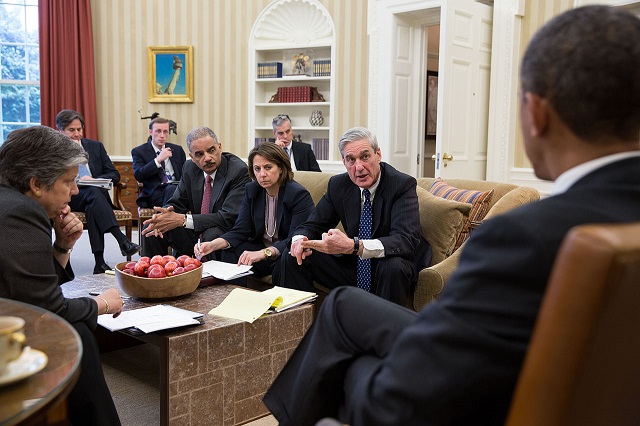 Conservative radio host Rush Limbaugh said on his radio show Thursday that Robert Mueller's expanding investigation into President Trump and his associates is gearing up to be the "most massive opposition research operation ever conducted in American politics."

"[Mueller has] hired, as we all know now, a staff of at least 14 lawyers, and it may be more, and each of them have assistants and clerks," Limbaugh said. "This is a massive, massive amount of people that Mueller has hired."

"Last I heard, they were all Hillary and Bill Clinton supporters and Obama supporters," he said. "They were all either donors, fundraisers, bundlers. They are liberal activists for the Democrat Party, Clinton and Obama, and thatís who Mueller has hired."



Limbaugh said: "They donít have any limits. There are no parameters. The Justice Department has not limited the scope of Muellerís investigation at all. So hereís what this also is. As it stands now, the Mueller investigation is probably going to be the biggest, most massive opposition research operation ever conducted in American politics. With this investigation having no bounds and no limits, this team can go anywhere to find any dirt whatsoever. In fact, for the presidential election in 2020, this is a godsend. A team of Obama-Hillary donors investigating every aspect of a sitting president that they detest."

He continued: "An opposition research festival that has been sanctioned by law, an opposition research investigation that can go anywhere as deep as it wants to dredge up anything they can find on a sitting president and to heck with what comes of the investigation. The data being produced here, I mean as much as things leaked now, it wouldnít be a challenge at all to have some of whatever they find end up in the presidential campaign of 2020. An investigation certified by the presidentís own Justice Department to investigate him! A free pass with an unlimited budget! There has never been an opposition research examination or investigation or operation that even gets close to this!"

Follow InformationLiberation on Twitter and Facebook.