Fmr DHS Sec Admits Law Enforcement Never Viewed DNC's 'Hacked' Servers, Can't Explain Why
Chris Menahan
InformationLiberation
Jun. 22, 2017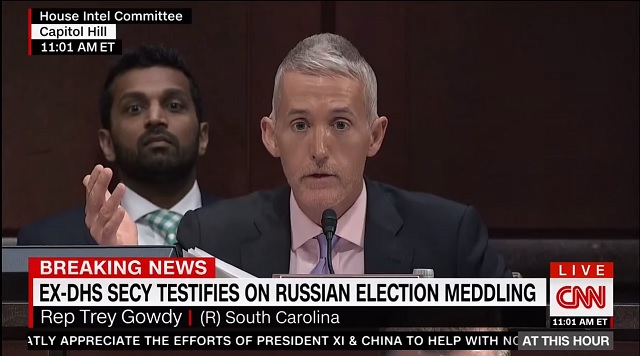 Former Secretary of Homeland Security Jeh Johnson admitted under questioned by South Carolina Rep Trey Gowdy that law enforcement was never given access to the Democratic National Committee's servers but Johnson couldn't explain why.

The FBI merely took the word of the highly questionably security firm CrowdStrike that "Russians" "hacked" the DNC's servers, even though CrowdStrike was hired by the Democrats themselves after the election.

Though 17 intelligence agencies, including the Coast Guard Intelligence (CGI), all claim the Russkies "hacked our election," they've yet to provide the American people with any hard evidence this is the case.



From Free Beacon:

"Twice now you have said that you could have camped out in front of the DNC and I would say in defense of you, it wouldn't have made any difference if you had, because they weren't going to give you the server," Gowdy said. "So if you're investigating either from the law enforcement or from an intelligence standpoint, the hacking by foreign hostile government, wouldn't you want the server?"

"Wouldn't that help you, number one, identify who the attacker was, and if memory serves me, this was early in the summer of 2016 when we learned of the DNC hack, so if they had turned the server over to either you or [former FBI] Director [James] Comey, maybe we would have known more and maybe there would have been more for you to report?" Gowdy asked. "So I guess what I'm asking you is, why would the victim of a crime not turn over a server to the intelligence community or to law enforcement?"

"I'm not going to argue with you, sir," Johnson answered.
The entire evidence Russia "hacked our election" amounts to the intelligence community -- which is loaded with SJW lunatics like Reality Winner and other leakers intent on sabotaging Trump -- saying "trust us."



Follow InformationLiberation on Twitter and Facebook.