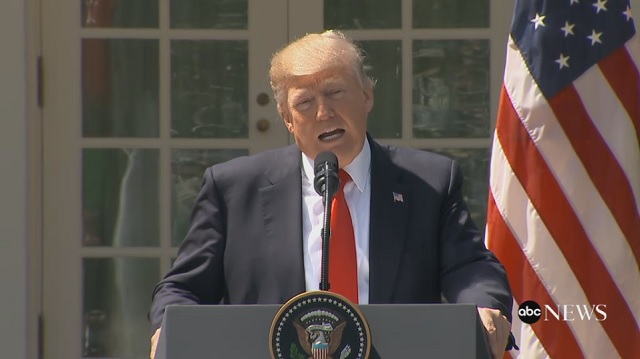 President Trump blamed Bashar al-Assad's regime for the chemical attack in Syria at a press conference on Wednesday and said his views on Syria and Assad have now "changed very much."

The hawkish rhetoric came just hours after it came out Steve Bannon was removed from the National Security Council, presumably at the request of neocon General H.R. McMaster.

"Yesterday chemical attack, a chemical attack so horrific in Syria against innocent people including women, small children, and even beautiful little babies, their deaths was an affront to humanity. These heinous actions by the Assad regime cannot be tolerated," Trump said before reporters on the White House lawn.

He failed to offer any evidence.



Trump's U.N. Ambassador Nikki Haley spewed similar bullsh*t in a speech before the U.N. Security Council this morning: "Yesterday morning, we awoke to pictures [of] children, foaming at the mouth, suffering convulsions, being carried in the arms of desperate parents. We saw rows of lifeless bodies, some still in diapers, some with physical scars of a chemical attack. Look at those pictures. We cannot close our eyes to those pictures. We cannot close our minds of the responsibility to act. We don't yet know everything about yesterday's attack, but there are many things we do know. We know yesterday's attack bears all the hallmarks of the Assad regime's use of chemical weapons. We know that Assad had used these weapons against the Syrian people before; that was confirmed by this council's own independent team of investigators. We know that yesterday's attack was a new low, even for the barbaric Assad regime."



Trump said similar at today's press conference: "It crossed a lot of lines for me. When you kill innocent children, innocent babies, little babies, with a chemical gas that is so lethal, people were shocked to hear what gas it was, that crosses many, many lines, beyond a red line, many, many lines."

When asked whether he would get involved in Syria, he responded saying, "I watched past administrations say we will attack at such and such a day at such and such an hour. ... I'm not saying I'm doing anything one way or the other."

Trump also told reporters his attitude on Syria has "changed very much" due to recent events.

"I like to think of myself as a very flexible person," he said. "I don't have to have one specific way, and if the world changes, I go the same way. It's already happened, that my attitude towards Syria and Assad has changed very much."

While it pains me to say it, it looks like war hawks are now taking over his administration. This is not the Donald Trump anyone voted for.





Follow InformationLiberation on Twitter and Facebook.