'You're Not Capable Of Writing A Clear Sentence': Tucker Takes On 'White Genocide' Prof
Chris Menahan
InformationLiberation
Mar. 31, 2017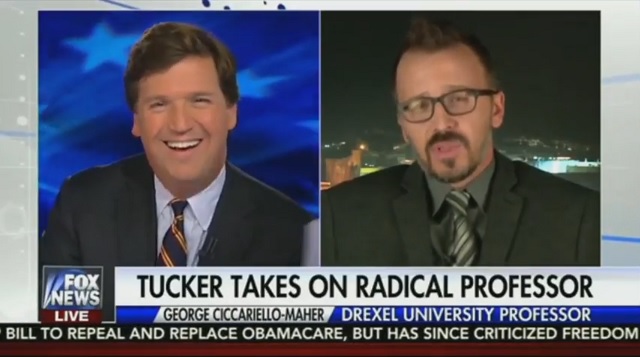 Tucker Carlson criticized Drexel professor George Ciccariello-Maher Wednesday night on Fox, saying he "writes like a child" and is incapable of forming "a clear sentence."

Ciccariello-Maher, who said last year he wants "white genocide" "for Christmas" and the "massacre" of whites during the Haitian revolution "was a good thing indeed," told Tucker he opposes Charles Murray being allowed to speak at American universities because he's "racist" and the SPLC labeled him a "white nationalist."

Tucker countered by questioning Ciccariello-Maher's own credentials, saying he spent time reading many of his writings and found them incoherent.



Tucker quoted from an article Ciccariello-Maher's wrote in 2007 titled, "Dual Power in the Venezuelan Revolution":

"By viewing the process through the Leninist concept of 'dual power'—that is, the construction of an autonomous, alternative power capable of challenging the existing state structure—we can see that the establishment of communal councils in Venezuela is clearly a positive step toward the development of fuller and deeper democracy, which is encouraging in and of itself. "
"Now, that's a sentence with too many adjectives, passive construction, imprecise language, it's high school writing -- it's crap," Tucker said.

"You're not an impressive scholar, that's what I'm saying. You're a performance artist!" Tucker said. "Your writing is childlike!"

Tucker asked Ciccariello-Maher to explain the meaning of the passage he quoted, to which Ciccariello-Maher responded: "I've done extensive studies on popular power in Venezuela, on the development of what are called 'communal councils.' I know them better than most and I know what it means to develop these participatory institutions of democracy in Venezuela."

He said he's "glad to talk about them," but instead pivoted to accusing Tucker of not understanding "basic English."

Follow InformationLiberation on Twitter and Facebook.