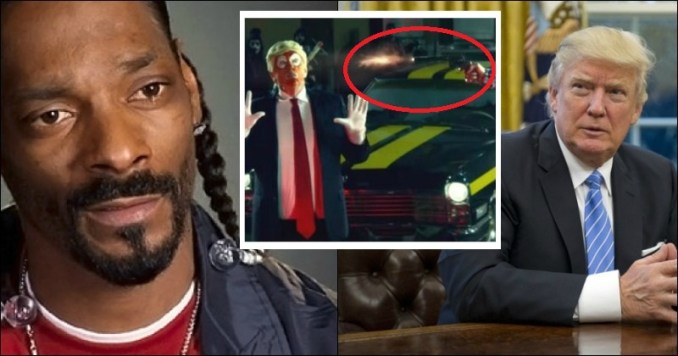 After a several day self-imposed silence, Trump took to Twitter on Tuesday morning, slamming both Snoop Dogg's recent controversial music clip and last night's MSNBC leak of his 2005 tax return.

Two days after rapper Snoop Dogg released a music video in which he shoots a "f--king clown" dressed as Trump with a toy gun, an angry Trump tweeted "Can you imagine what the outcry would be if @SnoopDogg, failing career and all, had aimed and fired the gun at President Obama? Jail time!"


As reported before, in the video Snoop Dogg says "this is the final call," before pointing a gun at the head of a cigarette-puffing clown dressed as Trump and pulling the trigger, at which point a "bang" flag shoots out from the music star's gun.



As the Wrap reported yesterday, a representative for the U.S. Secret Service said that the agency, which is responsible for the safety of President Trump, is "aware of" the video "Lavender," which features Snoop Dogg shooting a clown-faced Trump stand-in with a toy gun. It is unclear whether the agency is investigating or planning to investigate the video, as the Secret Service spokesman said that the agency had no further public comment on the matter at this time.

Others criticized Snoop's "artistic" vision previously: "We've had presidents assassinated before in this country, so anything like that, people should really be careful about that kind of thing," Sen. Marco Rubio (R-Fla.) told TMZ after news of the music video broke. "He should think about that a little bit. If the wrong person sees that and gets the wrong idea, you could have a real problem. I think people can disagree on policy, but we've got to be very careful about that kind of thing."

Trump's attorney, Michael Cohen, also registered his displeasure with the "Lavender" video, telling TMZ, "It's totally disgraceful, Snoop owes the president an apology. There's absolutely nothing funny about an assassination attempt on a president."

"I'm really shocked at him, because I thought he was better than that. I'm not really sure I understand the artistic value to having somebody dressed up as Trump and firing a weapon at him," Cohen continued. "In all fairness, it's not funn

In a second tweet, in response to last night's highly anticlimatic MSNBC prime time event, in which Rachel Maddow publicized Trump's leaked 2005 tax return, and which showed the president making $150 million on which he padi a 25% tax rate, Trump lashed out asking "Does anybody really believe that a reporter, who nobody ever heard of, "went to his mailbox" and found my tax returns? @NBCNews FAKE NEWS!"


Ironically, Maddow's reveal may have backfired, because as discussed last night it showed that not only Trump made more money in a period in which many speculated he was in financial dire straits, but also paid a generous tax rate higher than that of Barack Obama, Mitt Romney and even Bernie Sanders. As such, because it case the president's tax filings in a favorable light, many immediately suggested that it was Trump himself who delivered the tax return to MSNCB contributor David Cay Johnston.