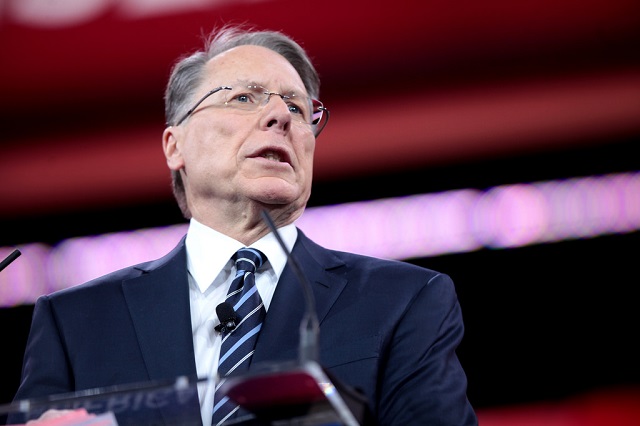 NRA Executive Vice President Wayne LaPierre began his talk at CPAC showing clips of Trump supporters being attacked and warned Soros-funded protesters may start committing terrorism in the US.

I wonder if he's a reader?

Here's Raw Story freaking out about his little noticed speech:

During his talk at CPAC, LaPierre told conservatives that, despite their victories in last November's elections, their nightmare may "just be beginning."

"Right now, we face a gathering of forces that are willing to use violence against us," he said. "The leftist movement in this country right now is enraged. Among them, and behind them, are some of the most radical political elements there are. Anarchists, Marxists, communists, and the whole rest of the left-wing socialist brigade."
LaPierre also noted that "many of these people hate everything America stands for," including "democracy" and "free-market capitalism."

All of these activists, LaPierre continued, were funded by left-wing billionaires such as George Soros, and are also "angry," "militant," and "willing to engage in criminal violence."

...In addition to all this, the NRA boss pointed out to the audience that "another definition of terrorism is violence in the name of politics," which was a clear attempt to link anti-Trump protesters to terrorists.

...LaPierre also reserved some venom for people in the intelligence community, whom he said should be "tracked down and hanged for treason" for allegedly leaking details of the president's conversations with foreign leaders.
LaPierre went on to say: "We've got five million active NRA members, 25 million more who consider themselves NRA members and we have gun owners and Second Amendment supporters all over this country."

"So, if you're a member of the leftist media, or a soldier for the violent left, a violent criminal, a drug cartel gang member, or a would-be terrorist, hear this: you're not going to win and you will not defeat us," he said.

"Make no mistake if the violent left brings their terror to our communities, our neighborhoods, or into our homes they will be met with the resolve and the strength and the full force of American freedom in the hands of the American people and we will win because we are the majority in this country."

This man is awesome. No wonder his speech is mostly being ignored.

Follow InformationLiberation on Twitter and Facebook.