CNN's Don Lemon Freaks Out, Ends Segment After Being Called 'Fake News'
Chris Menahan
InformationLiberation
Feb. 18, 2017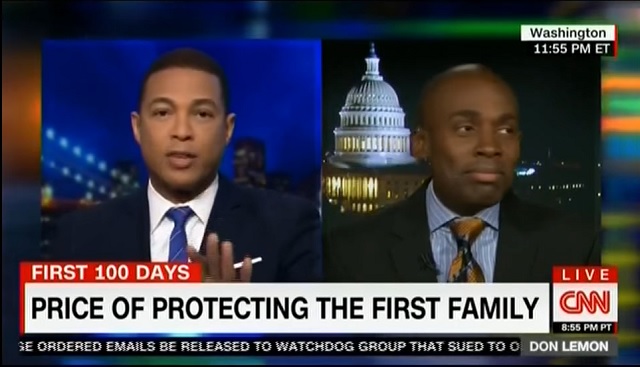 A triggered Don Lemon threw a hissy fit and silenced one of his guests before abruptly cutting to a commercial Friday after being called "fake news."

From Mediaite:

Lemon was leading a discussion about the costs of protecting the First Family, between Melania Trump currently residing in New York and President Trump's weekend visits to Mar-a-Lago. Maria Cardona and Karine Jean-Pierre said this is hypocritical because of Trump's past criticisms of Barack Obama.

...[Paris] Dennard told Lemon, "I think this is fake news. This is not a news story."
Lemon got teed off and jumped in to ask, "Do you actually know what the definition of fake news is?" Dennard responded, "What we're doing right now."

Lemon said that fake news is about intentionally deceiving people, and while there are a lot of mistakes in the press, he knows of no one who would put out a story to intentionally deceive the public.

He defended them covering this particular issue and said, "There's nothing fake about that. Please stop it with that stupid talking point that it is a fake news story. If you don't want to participate in the news stories on this network, then don't come on and participate. But don't call them fake because you don't agree with them."

Dennard reiterated his belief this is a "fake news story," and Lemon immediately cut him off, abruptly ending the show.
Poor Lemon, he and his network wanted so desperately to censor their right-wing competitors by calling them "fake news" and yet it's totally backfired and the whole scam has blown up in their lying, fake news faces.


Follow InformationLiberation on Twitter and Facebook.