John McCain Talks Sanctions, Foreign Policy With Russian Pranksters Posing As Ukrainian PM
Chris Menahan
InformationLiberation
Feb. 17, 2017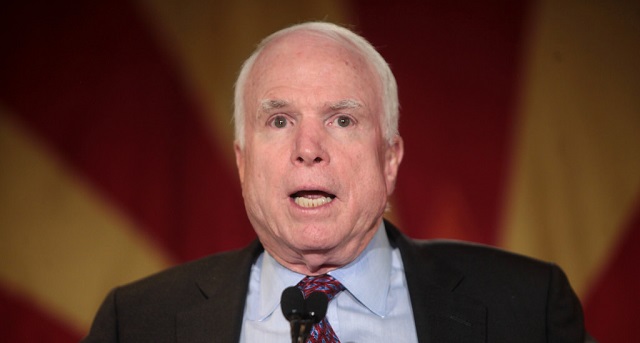 A shocking audio tape released by two Russian pranksters posing as the Prime Minister of Ukraine caught John McCain talking about Russian sanctions, foreign policy and criticizing Trump behind closed doors.

In the tapes, McCain is also heard telling the "Prime Minister" that he's sending Trump a letter urging him to send "lethal" weapons to Ukraine.

These same pranksters successfully tricked Maxine Waters in a tape released earlier this week and say they also have tapes of Lindsey Graham and Mitch McConnell.

From Sputnik News:

MOSCOW (Sputnik) – The news comes as the pranksters called US Congresswoman Maxine Waters, the one who earlier claimed that "Putin is continuing to advance into Korea," to say that Russia has invaded Limpopo, an African river that the politician believed to be a country in Africa.

Having introduced themselves as Ukrainian Prime Minister Volodymyr Groysman, Kuznetsov and Stolyarov also discussed the sanctions against Russia with Waters.
Following the incident, Peskov said Kremlin was not linked to the prank phone calls and appreciated the fact that nobody had the idea to accuse Moscow of the tricks.

The sanctions issue was also discussed with US republicans, according to the hoaxers.

"We have pranked McCain, Lindsey Graham and the Republican Majority leader in Congress McConnell in the Congress Mitch McConnell on the issue of anti-Russian sanctions, however, we can not tell the details yet," Kuznetsov said.
Why is John McCain undermining our President and talking sanctions and foreign policy with Russian pranksters posing as the Prime Minister of Ukraine?

This is completely insane.

Seems awfully hypocritical considering what just happened with Michael Flynn. It'll be interesting to hear the calls with Graham and McConnell.

Follow InformationLiberation on Twitter and Facebook.